VBSPCA 2020 Lifesaver Award Recipient: Arvalla "Arvie" Larsen
The 2020 recipient of the Virginia Beach SPCA Lifesaver Award is Arvalla "Arvie" Larsen, an inspiring example of generosity, selflessness, and compassion in service to the animals. This annual award has been given out for the past 10+ years, and it honors individuals who demonstrate an unwavering commitment to the VBSPCA mission of compassion. Larsen has consistently proven that she is deserving of this very special award and we are thrilled to recognize her in this way.
Larsen's journey with the VBSPCA started in 1980 while she was serving in the U.S. Navy. For many years, she donated part of her paychecks to the shelter as a way of supporting the animals. After retiring in 2013, she took a gap year and decided to put her compassion into action. Her volunteer orientation was in 2014, and ever since then she has helped clean the cattery a few days every single week.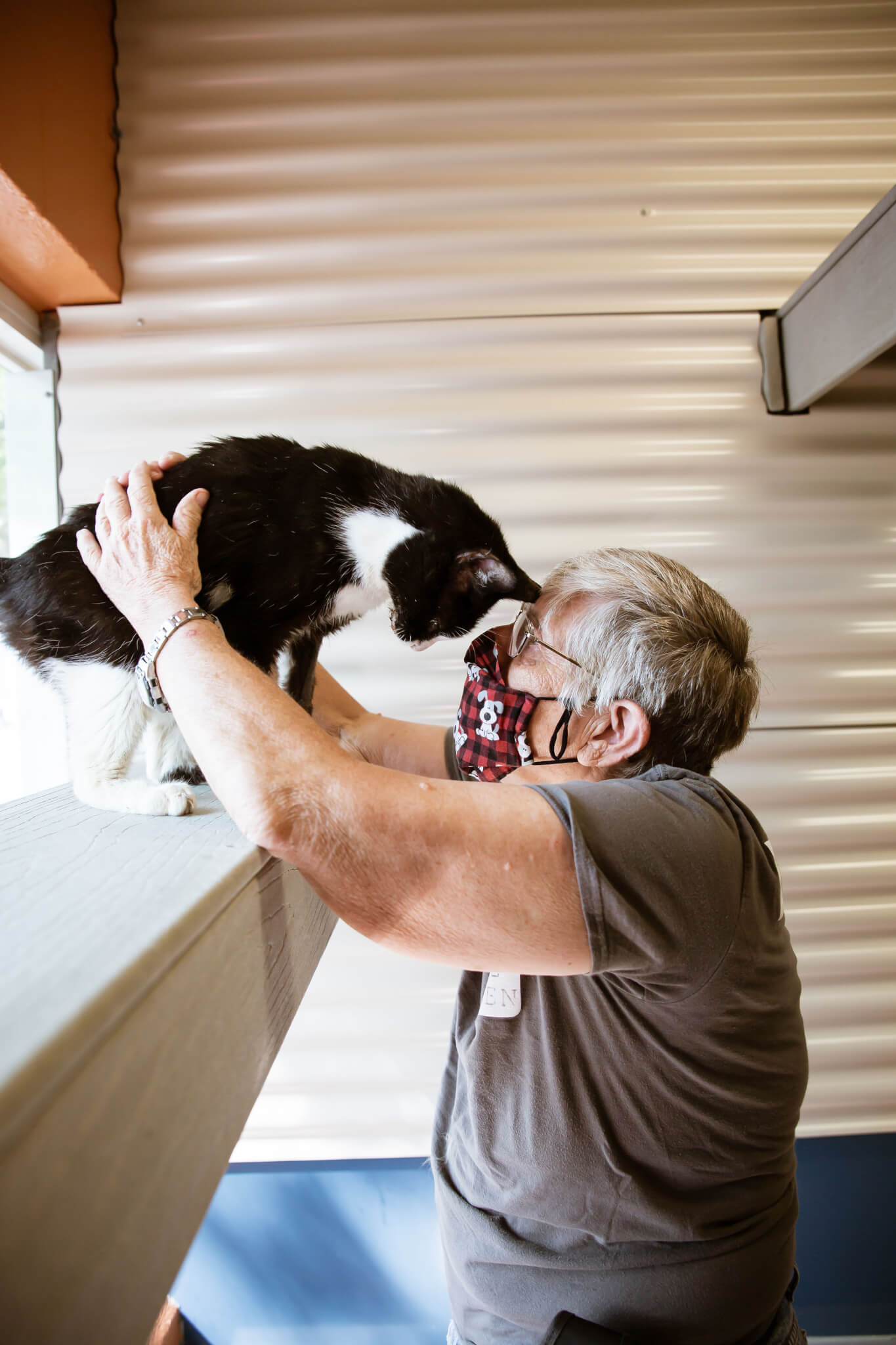 When asked why she is so dedicated to helping the animals of the VBSPCA, Larsen explains in her blunt and matter-of-fact way that sometimes she "likes animals better than people. Because people can be mean. Animals don't know what being mean is, only that they want to survive."
In her off time, she continues to serve animals in the Virginia Beach community. She is a level 4 wildlife rehabber with Second Chance Wildlife and has successfully released multiple animals after nursing them back to health. "I hope to help animals live a long life and a better life for as long as I can," she says.
Stemming from her passion for animal welfare, Larsen believes that government-run programs like animal control need help from dedicated people working in nonprofit organizations. According to her, the problem is too big for one shelter to handle. "Nonprofits are extremely important in our community because they can give a helping hand to state-run shelters," she said.
Larsen credits her work ethic and dedication to her military background. She joined the U.S. Navy in 1964 and served until 1984, transitioning into working veterans affairs at Tidewater Community College. She recalls how different the culture was for women due to WAVES still being active, saying "we weren't really in the Navy." However, one thing she is grateful for during her time of service is teaching her the benefit of having structure.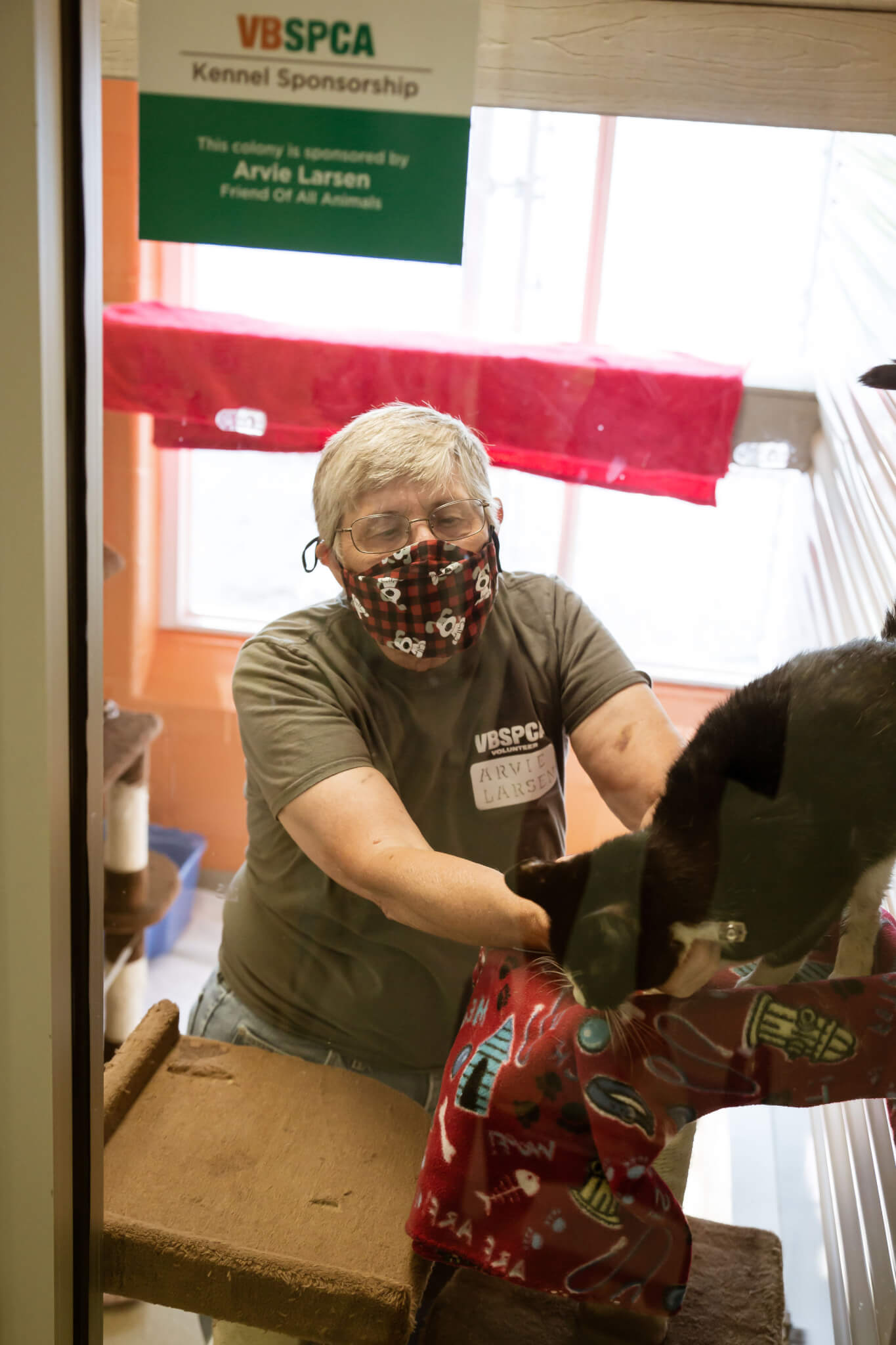 "I know the VBSPCA can rely on me and I take pride in being relied upon," she said. "The military taught me that when you have a schedule, you should keep it. It's a good feeling to know that they can count on me to get a job done."
While she is an integral part of daily life at the shelter, Larsen claims that she almost didn't show up to her volunteer orientation. Her introverted personality made her nervous to take the first step, but once she got started, all of her worry about volunteering went away. "I work in the cattery and I love it because it gives me a little time to myself in the mornings before the rush starts. There's a calming feeling of working around animals early in the morning, and I am so happy to have had this opportunity," she said.
No matter what arena she finds herself in, Larsen has lived a life in service of animals. Her selflessness and dedication are commendable qualities to have, and the VBSPCA has been fortunate to have her as a committed volunteer in service to the animals.
"I hope to help animals live a long life and a better life for as long as I can." – Arvie Larsen.