VBSPCA 2020 Compassion Award Recipient: Susan Browney-Dillon
The 2020 Virginia Beach SPCA Compassion Award recipient is Susan Browney-Dillon. This award is given out annually in recognition of individuals who demonstrate an unwavering commitment to the VBSPCA mission of compassion, both in the shelter and out in the community. As a business owner who freely gives her time and talent to help animals in need, Browney-Dillon is most definitely deserving of this honor.
Browney-Dillon has lived in the Hampton Roads area her entire life and grew up serving local animal shelters by cleaning cages, walking dogs, and even using her allowance money to donate to animals in need. When someone asks her about animal welfare, she will cheerfully answer back that it is her lifestyle. Her journey with the VBSPCA started over 30 years ago when she became involved with events. She used her dance background to choreograph and provide entertainment for the annual galas, and she later created the "Puttin' on the Dog" fundraiser to benefit the shelter by selling donated evening dresses and jewelry.
After many years of success, Browney-Dillon decided that she wanted to merge her passion for dance with her love of animals to create Dancing for Paws, a Dancing with the Stars style fundraising event that was held at Chrysler Hall. These events collectively raised over $150,000 in funds for the animals of the VBSPCA.
Browney-Dillon is the owner and director of Golden Slippers Dance Academies that currently have five locations in Virginia Beach. One of these locations serves as a backup hurricane shelter for the VBSPCA animals should an evacuation of the main shelter be necessary. In 2019, Golden Slippers celebrated their 40th year in business.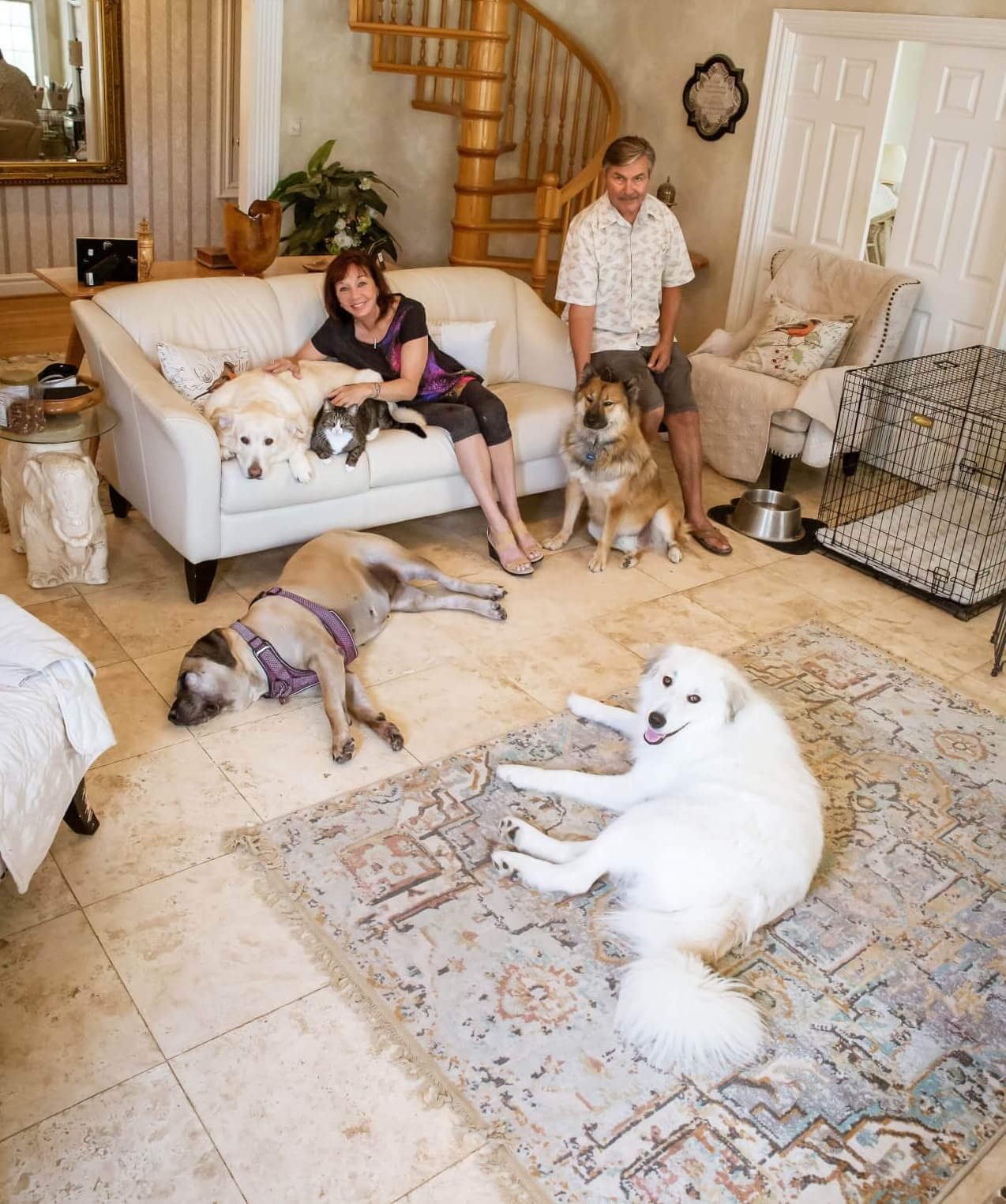 She has also directly impacted the lives of Sundance and Dixie, two special dogs who were transferred from a Korean meat farm. "It was a long, hard, and very challenging road for them to become confident dogs after their dark past, but with much love and patience they are happy and living their best lives," she said. "What a gift that I was able to be a part of that." Fun fact: Sundance and Dixie were featured on the cover of the VBSPCA 2020 calendar!
Sundance and Dixie are not the only animals that are part of Browney-Dillon's family. She has eight pets: four dogs and four cats, who are all rescues. However, her care for animals does not stop there. She often donates and buys supplies for shelter animals to make sure they are loved and cared for.
One of her favorite stories to tell happened in 2017 during hurricane season. The VBSPCA sent out a plea for blankets during the intake of numerous dogs displaced by Hurricane Harvey. The conference room was filled with crates and Browney-Dillon visited several thrift stores to buy all the blankets in stock.
"When I went to the DAV on Virginia Beach Blvd., the cashier commented on the number of blankets I was buying," she recalled. "I told her why I was purchasing them and not only would she not take my money, she reached in her wallet and paid for them. Her name was Naomi and I will never forget that act of kindness. What a great example of community, there are truly unsung heroes everywhere!"
Browney-Dillon believes that small acts of kindness can have a ripple effect, and she loves sharing everyday examples to show how important animal welfare is. "I truly believe we are supposed to help those creatures that cannot help themselves," she said, adding that she wants to live her life as a reminder that there are always animals in need.
Browney- Dillon's life has been defined by two qualities — compassion and ingenuity — and we are extremely grateful for the impact she has made on our entire organization.
"A small gesture of kindness by a few can make a huge difference to so many." – Susan Browney-Dillon