We are excited to announce our very first newsletter just for kids!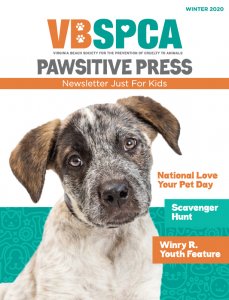 The VBSPCA's first edition of the "Pawsitive Press" arrives in January, full of educational information and activities for young animal lovers. The Pawsitive Press is a seasonal publication with 4 editions released each year. You can pick up the Winter edition at the shelter anytime after January 10th!
If you would like to receive upcoming editions of the Pawsitive Press in your mailbox at home, you can sign up below. There is no cost for this subscription, but you are welcome to add a donation which will help us continue to provide humane education to the children of Hampton Roads.
---