Miracle Medical Fund
Every single animal at the VBSPCA receives care in our clinic –  from antibiotics to bloodwork to lifesaving surgery. Shelter animal medical care costs over $400,000 annually, and it is only possible because of the Miracle Medical Fund.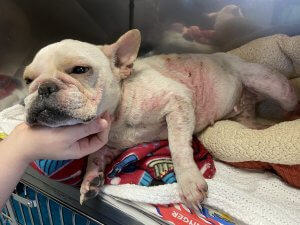 Lena arrived at the VBSPCA with severe skin issues and allergies that were causing her a great deal of pain and discomfort. Upon arrival, she was quickly seen in our clinic and a treatment plan was put in place. Thanks to the Miracle Medical Fund, Lena received medicated shampoos, antibiotics, and special treatment until she was healthy and ready for adoption. After 3 months in our care, she was happily adopted on February 2nd, 2021! 
Your support of the Miracle Medical Fund will ensure that every VBSPCA adoptable animal receives any medical treatment they need. Donate today using the form below.