Miracle Medical Fund
The Miracle Medical Fund ensures that every VBSPCA adoptable animal who is in need of medical treatment will receive medical treatment, and this is only made possible by you. 
The VBSPCA Miracle Medical Fund supports the medical care of over 2,700 homeless pets annually.  This critical fund covers the entire cost of all vaccines, antibiotics, medicated shampoos, and veterinary exams for our entire animal population, while also providing partial funding for larger lifesaving veterinary services. These larger services include amputations, dentals, heartworm medications, mass removals, hernia repair, eye surgeries, and biopsies. Some of these treatments can be very costly, and the MMF helps reduce the costs by up to 60%  which gives these animals a much better chance of finding a family.  
Every single animal at the VBSPCA benefits from the Miracle Medical Fund, and we invite you to become part of their story. You can donate to the Miracle Medical Fund by filling out the donation form below, and in doing so you will provide lifesaving care to animals in need. Thank you for caring for our animals. 
Meet our March Miracle Medical Ambassador: Athena│6-year-old English Mastiff Mix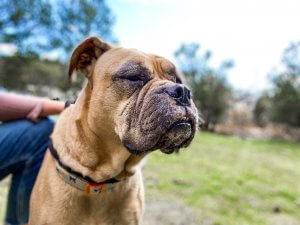 Athena is our Miracle Medical Ambassador for March, and her story highlights a common journey for shelter animals and why they so desperately need our help. Athena came into our shelter with multiple medical needs. She needed double entropion eye surgery, medicated baths for her skin, and dental surgery for badly infected (and neglected) teeth. The Miracle Medical Fund will reduce the cost of the surgery so that her adopters do not have to carry the burden alone.