Miracle Medical Fund
The VBSPCA Miracle Medical Fund benefits the medical care of over 2,700 homeless pets annually. Many of the animals who come through our shelter have been neglected or abused and require more costly treatment for conditions such as heartworm, broken bones, and dental disease. The cost of this care is nearly $40,000 each month, which means the Miracle Medical Fund needs to raise over $450,000 a year.
The more you give, the more animals we are able to treat. The road to their forever homes begins with you
Examples of Lives Saved by the Miracle Medical Fund
Rufus
Rufus, a Jack Russell Terrier mix, came to the VBSPCA with a leg that was so badly fractured that the only option was to remove the leg. The Miracle Medical Fund made this surgery possible and Rufus was quickly on the road to recovery. It didn't take long for Rufus to adjust to life with three legs and within a month of his surgery he was adopted into a new loving family.
---
Duncan
Back in 2011, Duncan was a small kitten looking for a home at the Virginia Beach SPCA. But before Duncan could be adopted, his left eye needed to be removed due to a melting ulcer. The Miracle Medical Fund made this surgery possible, and soon Duncan was in a loving home of his own. Years later, Duncan developed issues in his remaining eye, and the cost of treatment forced his family to surrender him back to the VBSPCA. The VBSPCA clinic removed his ulcered eye, eliminating the pain and difficulties associated with his condition. Without the Miracle Medical Fund, Duncan would not have this second chance to find his forever home. Duncan is currently available for adoption at the VBSPCA.

---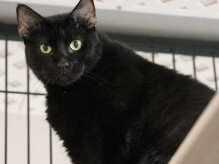 Blue Kitty
Blue Kitty was transferred to the Virginia Beach SPCA in April. He was only 12 months old, but this was already his third time being transferred to a different shelter. When he arrived at the VBSPCA, his hair was patchy and thinning, he had a wound in his right nostril, and he was malnourished. Blue Kitty struggled to eat, and it was soon discovered that Blue Kitty's teeth were causing the issues. The clinic staff quickly scheduled a dental surgery and the majority of Blue Kitty's teeth were removed. The total cost of the required dental surgery was over $240. The Miracle Medical Fund covered over 50% of that cost. After recovering from surgery, Blue Kitty began eating more readily. He gained weight and his hair grew back into a beautiful black coat. Generous donors helped cover the cost of Blue Kitty's dental surgery, and in August he was adopted into his forever home.