Happy Tails — Blossom
Every single animal that comes through our shelter has a story. Some are complex, many are sad, but all of them get better the minute they arrive at the Virginia Beach SPCA. However, as important of a role as our shelter plays in each story, the happily ever after is why we're here. The second chances begin with us, but the forever is what it's all about. VBSPCA adopters are an integral part of our mission, and this month we would like to shine our spotlight on the Landons – a family who welcomed sweet Maggie into their home back in 2018. 

How did you find Maggie and why did you choose her?
One Saturday morning our nephew had a lacrosse game and I happened to be browsing the VBSPCA website when Maggie popped up. I guess you could say it was love at first sight. I left early and stopped by to meet this sweet baby. I sat in the visitation room, petting her and talking to her. She immediately rolled on her back for belly rubs and I knew she was mine.
What is her adoption story?
When I met Maggie, I was told she had a lot of health issues and that someone had donated money for some of her healthcare.  I declined the donation and asked that it go to another animal that could benefit from it. I knew the health issues going in, but I knew we had the means and a wonderful veterinarian.  My understanding of Maggie's first years was that she was tethered on a porch by a shoestring and there were multiple pets on the property, which explains Maggie's issues with protecting food. 
How did you help her build confidence and trust?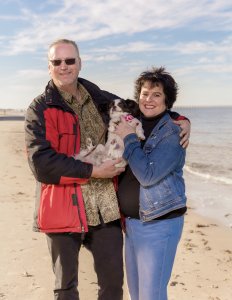 Maggie had a lot of trust issues when we brought her home. I knew we had to shower this angel with hugs, kisses and lots of love. Thankfully, my mother lives with us so she did not have to be left alone during the day, and I think this helped a great deal. (My mom's name is Margaret, so she always says that Maggie is her namesake.) Seeing how Maggie has begun to trust, how she interacts with the other pups in the house, how she has really come into her own fills my heart with pure joy. 
How has she been doing in her home?
Maggie has really settled in perfectly with our family. In the morning when it's breakfast time, I ask Maggie if she's hungry and she starts running in circles and through my legs. Most Fridays are Maggie at work days. When I'm leaving, I just say, "Are you ready to go to work?" and she goes right to my car and off we go. And she has recently found her voice! When she wants something, she looks us dead in the eye and barks. Most of the time she wants to be on my lap. 
Have you adopted any other pets?
I lost my 8 year old Dachshund unexpectedly 14 years ago and my family was devastated. There was definitely a void. We talked about getting another dog. One of my coworkers told me to look on the VBSPCA website, and there was Callie! Another love at first sight. When I went to meet Callie, I wasn't quite sure if this was the right decision as I had never adopted an animal. Adopting Callie really was such an awesome experience.  The joy we felt taking this baby from the shelter and welcoming her into our home felt so good. Just knowing somehow we made a difference in this pup's life. We loved her so much, spoiled her like crazy, my husband refers to her as our "dogter." This was such a happy and rewarding experience, we came back for Cadie the next year. We have no children of our own, so these girls are our children.
Why should people adopt?
All I can say is in the case of Maggie, she fills our home and hearts with such love. We received so much in return and she is truly a part of us now.