Happy Tails – Ollie
 Every single animal that comes through our shelter has a story. Some are complex, many are sad, but all of them get better the minute they arrive at the Virginia Beach SPCA. However, as important of a role as our shelter plays in each story, the happily ever after is why we're here. The second chances begin with us, but forever is what it's all about. 
VBSPCA adopters are an integral part of our mission, and this month we would like to shine our spotlight on VBSPCA friend and adopter Kim who welcomed sweet Ollie into her home and gave him the happily ever after he deserved.
How did you find Ollie?
I am a foster for the Virginia Beach SPCA and I received a message about some puppies who needed temporary care. I am always glad to help no matter what breed, but when I arrived and they brought out Dachshunds, I was really excited. I took two puppies homes to foster, Maverick (now Ollie) and Goose, and I immediately fell in love with them both. 
What was Ollie's story before he came into your life?
He came from a hoarding situation where he was living with 44 other Dachshunds. It was pretty terrible. When the animals were rescued from the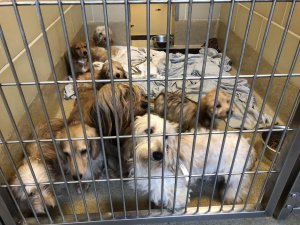 situation, a few different shelters stepped in to help. The Virginia Beach SPCA took 14 of the puppies and I was asked to foster two. 
How did you help Ollie build confidence and trust?
His brother Goose has a bigger personality, so Ollie basically followed his brother around and became his shadow. He seemed shy and reserved, even for a puppy. That might be what happens when you live with so many other dogs… you learn to be in the background. However, once Goose went on to a new home, OIlie's personality began to shine. He didn't have any trust issues. He is a friend to anyone and is very patient and gentle. 
How has he been doing in the home?
We've been having a great time watching him grow into his own little personality. He is so fun! There are 3 other dogs in the home and they have formed their own little pack, but his favorite is his Great Pyrenees brother Keigi. They all get along great and they make us laugh alot. 
Please share a funny story or experience with Ollie.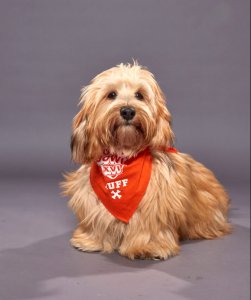 Ollie was in the starting lineup for the 2020 Animal Planet Puppy Bowl XVI.  Even though he can be such a crazy wild puppy at home, the experience of filming in NYC made him a little camera shy. All the commotion was a bit much, and he wouldn't play or do anything on the field during the taping. He just wanted everyone to hold him. Although the did get the final play of the entire game, which was fun. 
Does Ollie have any funny quirks or habits?
Sometimes he acts like a cat.  He stretches like a cat and likes to sleep around the pillows when we are in bed. It's cute. 
How has Ollie enriched your life?
He brings so much love and joy into our home and makes us so happy. I really can't imagine life without him. 
Why should people adopt?
There are so many animals out there in need of a loving home, even pure breeds can be found.  All these animals are so loving and appreciative for someone to just give them a chance to let them show how much they can bring to someone's life. I love the wonderful work they do at the Virginia Beach SPCA. They go above and beyond to help all their animals find loving furever homes.