Happy Tails | Peabody
Every single animal that comes through our shelter has a story. Some are complex, many are sad, but all of them get better the minute they arrive at the Virginia Beach SPCA. Peabody came to the VBSPCA in October 2019 when his owner surrendered him. The three year old hound spent just over a month in our shelter before he met Christy. She noticed his hopeful eyes and quickly decided he was the dog for her. Christy says when she returned to pick him up, he ran to her and hasn't left her side since then. We recently caught up with Christy, who shared just how special their bond has become.
We heard that Peabody was training to become a service animal – can you share a little about that and his progress?
Peabody was evaluated by an organization called Train a Dog Save a Warrior (TADSAW). They work with military veterans and their families that have multiple types of disabilities. His training is completed, we are just waiting for the Public Access Test. We are very proud of how well and fast he learned his commands and job. He is a true blessing in my life.
How is Peabody doing in the home?
Peabody is doing amazing at home. He loves his sister, potbelly pig Bacon Bits, and loves going to the park. He is our funny, loving guy.
What sort of activities do you and Peabody do together?
Peabody and I do Instacart together (we grocery shop for other people). We also go for long walks, playdates at the dog park, we travel to Kentucky to visit friends, and we meditate together.
Does Peabody have any funny quirks?
One of Peabody's quirks is he loves blankets – he will try to crawl under anything that looks like a blanket. He also will pout and throw a temper tantrum if I have a guest in the car and they sit in his seat.
How has Peabody enriched your life so far?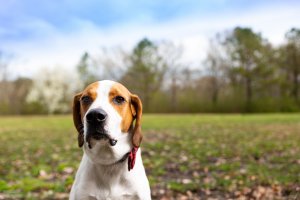 Peabody has enriched my life by bringing a smile to our hearts, he lends us his ears when we just need to vent, and makes us laugh with his cute little prance he does when he is excited to go outside or to work. There are days I would be lost and still stuck on my couch if it wasn't for him and him needing to be taken care of.
Why do you think people should consider adopting a pet from a shelter?
Shelter dogs make great companions; they are forever grateful for the home and life that they receive. This also helps open doors and kennels for other pets to come in and find their happily ever after.