At the VBSPCA retail store, our toys aren't just toys…they're second chances.
The VBSPCA has a pet retail store conveniently located inside our shelter. From toys to treats to gear for animals and humans alike, we've got you covered! When you shop at VBSPCA, all of the proceeds go directly back to the animals in our care – so you can feel even better about your purchases! Our retail store is located next to our shelter lobby, and we are open Tuesday through Sunday from 11am to 6pm.
What's New
Love is Love: In honor of Pride Month, the VBSPCA has a variety of pet products available for pet parents. From bandanas to toys to pet cookies, love abounds at the VBSPCA. Stop by and pick up some pride products today.
We've got Gift Cards: Give the gift of compassion with a VBSPCA Gift Card! Cards can be used for retail purchases and adoptions, however all adoption policies and procedures still apply.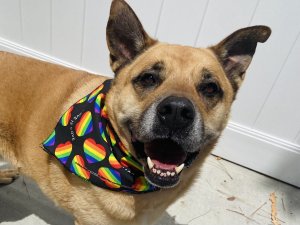 ---
Always in Stock
Pet Toys:  Our shelter retail store carries a variety of toys for cats, dogs, and small animals ensuring quality enrichment in the home.
Pet Care Supplies: From litter pans to leashes to pet carriers and crates, we have all you need to care for your furry friend!
Health and Nutrition: We carry the essentials to keep your pet healthy and happy. From dental care to shampoos to treats, our retail store has a variety of health products available for both cats and dogs.
VBSPCA Apparel and Accessories: We have VBSPCA inspired shirts, hats, and accessories available for animal lovers. They come in a variety of colors and styles, and your gift will bring joy to that special someone while also providing much needed support for our shelter animals.