Leila Bradley first turned up at the Virginia Beach SPCA as a volunteer in 2017. She adopted her dog Scarlet that same year. A lifelong animal lover, Bradley wanted to become more deeply involved in the organization. When she had the opportunity to join the VBSPCA Board of Directors in 2018, she jumped at the chance.

Fast forward to now, as Bradley begins her time as Board Chair. "Eliminating animal suffering is what I am most passionate about," said Bradley. "I believe the best way to achieve this is by increasing compassion for animals and educating the community."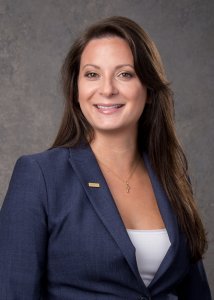 Since Bradley joined the VBSPCA Board of Directors, she has aided the organization with her extensive financial expertise. Bradley has worked for TowneBank and Towne 1031 Exchange for nearly two decades, and is currently the Vice President of Towne 1031 Exchange. In addition to her service at the VBSPCA, Bradley is a member of the CHKD Infinity Circle and a volunteer for the United Way and the TowneBank Foundation.

As an active member of the community, Bradley encourages others to get involved with the VBSPCA. When asked how someone should get started, she answered, "By attending the VBSPCA events and visiting the shelter to see firsthand what an impact [the VBSPCA has] on the community and the animals they care for."

Bradley aims to help the VBSPCA continue to grow as she steps up as the Board Chair and looks forward to working closely with the executive team. We are so grateful for her years of service, and we are excited for what's to come!

If you are interested in serving on the Virginia Beach SPCA Board of Directors, please email Emily.Peck@vbspca.com for more information.