Jan Fine | In Service to the VBSPCA for 15+ Years
Jan Fine is a very familiar face at the Virginia Beach SPCA. For more than 15 years, she has served on the VBSPCA Board of Directors. When asked why she is so devoted to the organization, she simply says, "I have always loved animals and have been lucky to have them in my life."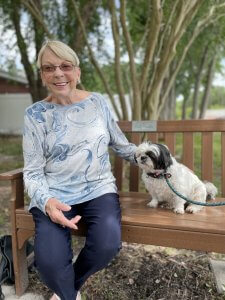 From a varied career history to a long track record in volunteering, Fine brings a wide array of experience and insight to her role on the board. She has done everything from editing reports to the Atomic Energy Commission for G.E. to owning her own gift shop. Fine's volunteer work outside of the VBSPCA includes chairing the Boardwalk Art Show and Norfolk Academy's Field Day as well as chairing galas for MOCA and the Virginia Aquarium.

Fine is most passionate about adopting animals into loving homes. "Putting the right animal with the right family in a happy forever home is very special," she says. "I also love that we can help to provide medical services in our community through our fantastic veterinary clinic."

Fine's passion for volunteer service is contagious. "The volunteer program is a wonderful way that people can get involved with the VBSPCA," she suggests. "Attending fundraisers also helps to support animals at the shelter."

Dedicated individuals like Fine ensure the VBSPCA can continue working towards its mission of eliminating animal suffering. We are grateful for everything she does to help our animals!

If you are interested in serving on the Virginia Beach SPCA Board of Directors, please email Emily.Peck@vbspca.com for more information.