Happy Tails | Shadow
Every single animal that comes through our shelter has a story. Some are complex, many are sad, but all of them get better the minute they arrive at the Virginia Beach SPCA. Shadow arrived in November 2020 when his owner could no longer care for him and his sister. He was in need of dental surgery and had lost patches of hair. After the VBSPCA Clinic gave him the care he needed, he waited patiently for his forever home. After three months at the shelter, Shadow's life changed when Katie and her family visited him in February 2021. Katie recently shared Shadow's adoption story with us.
How did you know Shadow was the one for you?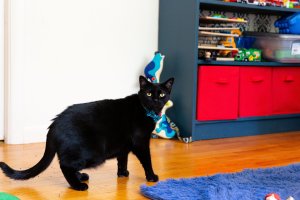 We were originally looking for a kitten. We have a rambunctious 2 year old boy and thought it would be easier for a kitten to get used to our loud household. After looking around at different shelters, we really couldn't find any kittens or they would be snatched up so quickly we couldn't get there in time. I finally started asking shelters if they had any family friendly cats or cats who tolerated kids. When I got to the VBSPCA, I asked and they pointed me immediately to Shadow, saying he was very affectionate with kids. I visited him and fell in love with him. All he wanted to do was rub and love on me. Even when I tried to play with him, he would just rub his head all over my hand. He is still the most affectionate cat I have ever met.
What sort of activities do you and Shadow do together?
We love to cuddle on the couch. He loves to sit on my chest and get chin scratches from my husband and I. My son loves pet Shadow and says, "Ahh Shadow! He's a good cat."
Does Shadow have any funny quirks or do you have any funny stories to share from your time together?
He is a beggar for food! I wasn't expecting that from him. Whenever we go to the kitchen, he RUNS ahead of us, meowing, tail twitching and showing us the cabinet that we keep his food and treats in. When we get the bag of treats, he stretches on us and meows.
How has Shadow enriched your life so far?
He is the most affectionate cat we've ever known. He has a powerful purr and is the most patient, sweet cat I know. The minor inconvenience of litter and fur mean nothing in comparison with the love that he gives our little family.
Why do you think people should consider adopting a senior pet from a shelter?
Senior cats don't need constant attention like kittens do. You have to constantly get energy out of a kitten, while a senior cat knows how to get energy out for themselves. For a while, I was looking into buying a purebred cat that is known for affection. But after my experience with the VBSPCA, now I know that all you have to do is ask the staff for the traits you are looking for in a pet. You save yourself money and your cat's life by adopting from a shelter. You don't need an expensive pet to get the love and affection you are looking for in a pet. We absolutely love our sweet cat and find ourselves lucky.