Happy Tails | Tonka
Every single animal that comes through our shelter has a story. Some are complex, many are sad, but all of them get better the minute they arrive at the Virginia Beach SPCA. Tonka arrived in December 2020 when he was transferred from an animal shelter in North Carolina. The three year old Catahoula Leopard Dog mix needed a special home since he is deaf and very high energy. Additionally, Tonka needed to go through heartworm treatment with the help of the VBSPCA Clinic. After two months of waiting, Tonka's perfect match appeared and he was adopted in February 2021. We recently caught up with his owner Katlin to see how Tonka has settled into his forever home.
How did you find Tonka?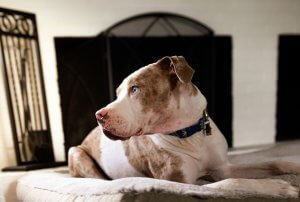 After tragically losing our last dog, we wanted to give a home to a dog in need. We often went to the Virginia Beach SPCA in search of a new family member, and Tonka always stuck out to us. Finding out his special needs and knowing we have two additional dogs, we knew it would be hard but possible. After visiting and doing a meet a greet with Tonka, we went home and completely cleared out our third bedroom as that would be his home during his heartworm treatments to rest. After three rounds of meet and greets with both of our dogs, the staff finally gave us the amazing news of "it's a perfect fit."
How is Tonka doing in the home?
Tonka is doing amazing at home! Of course it was a process in the beginning but it was well worth it. He is gaining some much needed weight, getting all the proper shots and exams for his heartworms, and, of course, having the much needed feeling of being at home with family.
What sort of activities do you and Tonka do together?
Where do I even begin with his activities? It all starts with him waking us up for his morning feeding at a proper 7am. After that he takes his usual one hour nap. Then it's all playing fetch and tag with the dogs in the backyard. His favorite is letting the other dogs get the toy, but then trying to retrieve it out of their mouth. Afterwards they come in for a nice tasty treat.
Does Tonka have any funny quirks?
Tonka's famous and funniest quirk is looking into the mirror and always thinking it's another dog. No matter how many times he passes the SAME mirror, it's always another dog. He will spend hours just growling and staring into the mirror. At night we always have to drape a sheet over it for him to lay down.
How has Tonka enriched your life so far?
Tonka has not only enriched Adrian and I with being happy, but both of our dogs with giving them an added brother!
Why do you think people should consider adopting a special needs pet?
People should consider adopting a special needs dog because it builds a more unique bond. It's easy to adopt a dog who can hear you and train, but to take the time and work hard training one who is deaf – it's a feeling I can't even begin to describe. It's that moment that you see in the dog that everything clicks: you literally cry of happiness.