John Wallace | In Service to the VBSPCA for 10+ Years
For more than a decade, John Wallace has served on the Virginia Beach SPCA Board of Directors. However, his ties to the organization date back much further. "I have been familiar with the VBSPCA most of my life and adopted my first pet in the mid-80s. I was very impressed by the number of animals the VBSPCA finds home for each year and felt I could help serve its mission."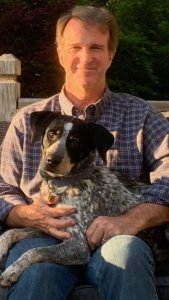 With a background in banking and financial planning, Wallace uses his expertise to provide financial guidance to the VBSPCA. He currently serves as a Financial Advisor and Director of Strategic Planning with Impact Financial Partners. Wallace has lived in Virginia Beach for most of his life and is dedicated to giving back to the community. In addition to his service to the VBSPCA, Wallace serves on the United Way's Community Investment Committee and on the board of the Financial Planning Association of Hampton Roads.

Wallace is most passionate about connecting pets with as many adopters as possible. "Our staff is extremely passionate and makes an incredible effort to take care of the animals and provide them forever homes," said Wallace. He also notes that the VBSPCA "makes a significant impact in other ways through its educational programs, veterinary clinic, and Neuter Scooter."

Wallace believes everyone should learn about animal welfare and encourages people to check out the many resources available including the VBSPCA website. His other piece of advice? "Seek opportunities to get involved by volunteering, fostering a pet, or adopting."

Dedicated individuals like Wallace ensure the VBSPCA can continue working towards its mission of eliminating animal suffering. We are grateful for everything he does to help our animals!

If you are interested in serving on the Virginia Beach SPCA Board of Directors, please email Emily.Peck@vbspca.com for more information.