Happy Tails | Mama & Blondie
Every single animal that comes through our shelter has a story. Some are complex, many are sad, but all of them get better the minute they arrive at the Virginia Beach SPCA. Mama and Blondie are a mother-daughter duo who have spent their entire lives together. They have been surrendered to the VBSPCA twice after their previous owners could no longer care for them, most recently in December 2021. At 15 years and 12 years of age, the senior Turkish Angora cats needed a place where they could live out their retirement years together.

Mama and Blondie became favorites of our shelter staff, receiving lots of love and attention while they waited to be adopted. They made themselves at home in one of our cat colonies and ended up spending four months there. Then in April 2022, Morgan spotted them on the VBSPCA website and adopted them on Easter Sunday. We recently caught up with Morgan to get an update on this special pair.
How are Mama and Blondie doing in the home?
Mama and Blondie have adjusted to living in our home. At first they were not thrilled as we have another cat (Clover) and a dog (Ylvis), but after a few months they fit right in. Mama still likes to hide, but she has a hiding spot where we can pet her and she can nap. Blondie likes to act like she owns the place, and she has become top cat.
What sort of activities do you do together?
They don't like doing activities. Just food and naps.

They are low maintenance cats, and this wouldn't be our home without them. We also never forget feeding time with three cats in the house (Hey it's like 5am and you haven't fed me yet, are you going to get up and do that?).
Do Mama and Blondie have any funny quirks?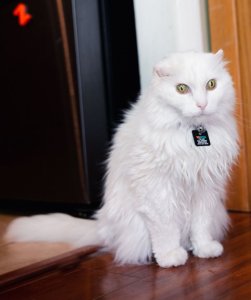 Mama likes getting her head scratched and she will rub her head all over our upstairs hallway. Blondie likes to paw at Clover if he starts getting annoying.
How have Mama and Blondie enriched your lives so far?
They have vibrant personalities that are entertaining. They are not cuddly (they hate being held) but they let us pet them every time they walk by.
Why do you think people should consider adopting senior pets like Mama and Blondie?
Senior cats are different: they don't play like kittens do, and they like to nap and get loves. I have raised several kittens and older cats, especially from the SPCA/Humane Society, and they have never disappointed. People seem to avoid the older animals because of their age, but it isn't the animals' choice to go to the shelter. They don't deserve to live the rest of their lives in the shelter and deserve the same amount of love that the younger ones do.