Happy Tails | Buck
Every single animal that comes through our shelter has a story. Some are complex, many are sad, but all of them get better the minute they arrive at the Virginia Beach SPCA. When Buck arrived at our shelter this June, he had already been through a lot. The two year old Boxer mix was shot in his front right leg and had to have it amputated. When he first came to our kennel, he was understandably nervous and shy.

Right away, Buck got a lot of attention from potential adopters thanks to a widely shared Facebook post. However, he ran into more bad luck. He was briefly adopted into two different homes, but neither one was the right fit. However, Buck's luck finally changed when he met Kim and her family. We recently caught up with Kim to get the rest of Buck's story.
How did you find Buck?
I saw Buck on the VBSPCA Facebook page initially in July. Our dog Crosby had just passed away in April, and I was sort of teasing my husband, Danny, about how sad this little three-legged dog looked. We weren't quite ready for a second dog, and I was about to have major surgery.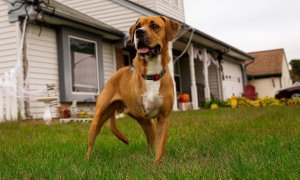 Then our dog Charlie passed the day after my surgery. I think Buck came across my Facebook feed again, and I told my husband. We didn't think we would get another dog so soon, but Danny came home one day and said, "All I can think about is that sad little three-legged dog." Unfortunately, the day we visited he had the maximum amount of applications. We still watched him through the kennel grate and I was in love. He went home with a family, but they brought him back for having too much energy. I was there the very next day to meet him officially.

When we met Buck, it definitely felt right! He instantly took to my son Mick. We filled out the paperwork right then and anxiously waited to bring him home. We adopted Buck on September 4, 2022.
How is Buck doing in the home?
Buck is doing well. He isn't perfect by any means, but we expected that! He has a LOT of energy. His backyard zoomies crack me up, especially since he only has three legs! He is FAST and kind of uses his shoulder to turn. He has also learned very quickly where we keep the treats!
What sort of activities do you do together?
Buck's favorite thing to do is snuggle. He lays on my son, Mick, while he does his homework; lays across my lap while I drink my coffee; and if you are on the couch, he wants to be as close to you as possible.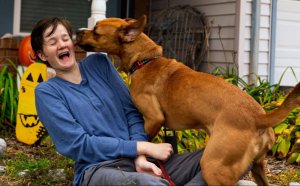 Buck loves to give kisses and will cover you with his big tongue all over. He loves to run, and watching his ears and jowls flop is probably my favorite thing. He also loves to go places and ride in the car. We have taken him to a couple breweries and restaurants and he is so well behaved! He gets all sorts of love. His foster family came to visit and it was a really special time. There were some happy tears, and he was so excited to see them!
How has Buck enriched your lives so far?
We weren't really looking for another dog when we adopted Buck. We had lost two dogs, one to old age and one to cancer very abruptly, in the course of three months. I had also just undergone surgery for breast cancer and was about to start radiation. The last thing on my mind was looking for a dog. When my husband came home talking about Buck, it all sort of fell into place. He was exactly what we needed. I feel like we needed each other.
Why do you think people should consider adopting pets with special needs?
I think people can underestimate dogs with special needs. Just because Buck is missing a leg doesn't mean he is just going to lay around. He can still be active and run and play. Special needs dogs have just as much love to give as fully able dogs. Sometimes they just need the right family to give that love back.