Meet VBSPCA Board Member Mario Lorello
Serving the community has always been important to Mario Lorello, who worked as an Assistant Commonwealth's Attorney in Virginia Beach for more than a decade. After transitioning to private practice, Lorello wanted to find a way to keep serving the public and found his place with the Virginia Beach SPCA's Board of Directors. 
"I wanted an opportunity to connect with the community through a cause that I was particularly passionate about," said Lorello. "I wanted to reconnect with the aspects of that type of work that I found most rewarding, such as helping others. In this case: animals."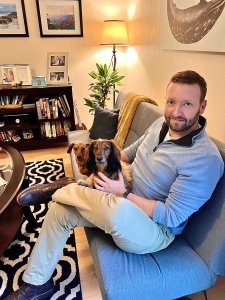 Lorello is now an attorney with the law firm of Zoby & Broccoletti, P.C., where he specializes in criminal defense. He also lends his experience with law to aid the VBSPCA. Additionally, Lorello is passionate about spreading the word about the organization's fundraising events and community outreach programs. 
"People generally have misconceptions about shelters in terms of the types of pets available, their demeanor, and the conditions they stay in while sheltered," said Lorello. "I'd urge the community to visit the VBSPCA and see firsthand the level of care and comfort there, the stellar facility itself, and the amazing animals in need of homes. And then tell others, because word-of-mouth is really powerful!"
We are happy to welcome Lorello to the VBSPCA Board of Directors. It takes involvement from caring people in our community to make a difference in the lives of homeless animals!
If you are interested in serving on the Virginia Beach SPCA Board of Directors, please email derby.brackett@vbspca.com for more information.