VBSPCA Goes Backstage at the BEACH IT! Festival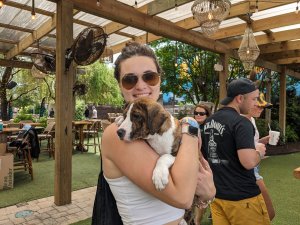 The inaugural BEACH IT! Country Music Festival kicked off with some special four legged friends. The Virginia Beach SPCA was honored to be part of Miranda's Little Red Wagon donation drive at The Shack ahead of the festival's opening on Friday, June 23, 2023.
Despite the rounds of storms rolling through, country music fans stopped by to meet adoptable dogs and puppies, donate to the animals, and learn about the VBSPCA. Each person who made a financial donation or dropped off an item from the VBSPCA Wish List was entered into a raffle for two VIP tickets to the BEACH IT! Festival as well as an autographed copy of Miranda Lambert's new cookbook, "Y'all Eat Yet?".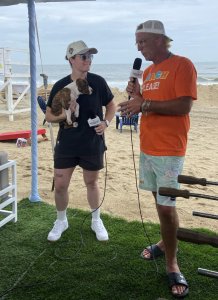 The donation drive was initiated by country artist Miranda Lambert's MuttNation Foundation, which organizes Fill the Little Red Wagon donation drives at her concerts to benefit shelters across the country. US1061 – Real Country teamed up with Lawyer Garage to create a bus-sized 'Little Red Wagon' for this special event.
Following the donation drive, VBSPCA adoptable dogs went backstage to greet the crew and musical artists. Spud, a 12 week old Terrier mix, even got to make a special appearance with singer Lily Rose during a backstage interview. A big thank you to everyone who stopped by to support the VBSPCA animals!