Happy Tails | Bentley
Every single animal that comes through our shelter has a story. Some are complex, many are sad, but all of them get better the minute they arrive at the Virginia Beach SPCA. Bentley was transferred to the VBSPCA from another shelter in June 2021. Previously the little Pomeranian mix had been chained outside with other dogs, living in filth. When Bentley arrived with a limp, the VBSPCA clinic team immediately examined him and determined he had been shot. There were buck shot fragments still in his leg, and the leg was broken. Our veterinarians amputated his leg, and Bentley was fostered by one of our staff members while he recovered from the surgery.

Despite living through years of neglect, Bentley was very friendly with humans. Once he was ready for adoption, his foster mom set up meet and greets with potential adopters. He immediately clicked with a young woman named Cat, who was ready to adopt a dog after living without a canine companion during her undergraduate program. We recently caught up with Cat to hear about how life with Bentley has been since she adopted him.
How did you know that Bentley was the one for you?
My sister, Melanie, was actually the one who found Bentley! She saw him online and thought that he would be a great fit! I was won over by the story of his previous life and was instantly head over heels for this little dog.
How is Bentley doing in the home?
Bentley has done exceptionally well since I brought him home! We have adopted a great routine in the mornings including a walk around the lake, then breakfast and coffee together (his breakfast and my coffee, of course) before getting ready for school!
Does Bentley have any funny quirks?
As boy dogs do when they go potty, he attempts to lift up his back leg. However, since he is down a leg in the back, he ends up walking on his front paws in an attempt to keep his balance!
How has Bentley enriched your life so far?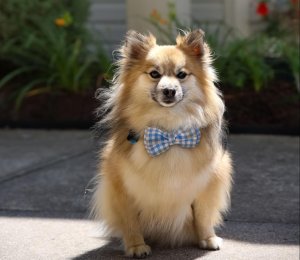 Growing up, I had always been accustomed to living with big dogs and always thought that I would stick to that trend. However, my condo association requires dogs to be under a certain weight, so I had to downsize. I very quickly realized that size does not matter – I never thought that I could love a dog as much as him! He has become my little shadow. He sleeps next to me, follows me around when I cook, and loves taking naps on the couch after a long day. Not once have I felt lonely since adopting him. Similarly to most dogs, he is simply content existing with his human!

There is truly nothing like the experience of owning a dog! Their loyalty to stay by your side, the fun they have on walks together, and the excitement they show when you walk through the door is truly an experience like no other. Sometimes, one can feel small in this world and feel as if they have no power to make a difference – however, when you make the decision to adopt a dog, you have changed their life forever.
Why do you think people should consider adopting a pet with special needs?
I believe that adopting a dog with special needs is truly a privilege if one has the ability to do so. Having the patience to provide for a dog with special needs takes a certain "breed" and may not be for everyone. However, if one feels as though they are called to do so, it can be incredibly enriching to provide for an animal that may need a little extra help. From my experience, most dogs (and Bentley as well) have an incredible ability to adapt and flourish with just the added bit of help from their humans!