Trish Blue | In Service to the VBSPCA for 15+ Years
For more than 15 years, Trish Blue has served on the VBSPCA Board of Directors. "I wanted to support an organization with a mission that I was passionate about," she says.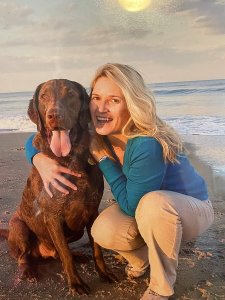 With over 20 years experience as a CPA, Blue provides financial guidance to the VBSPCA. She is currently a director of assurance services for Cherry Bekaert in Virginia Beach, where she focuses on audits for real estate entities, nonprofit organizations, and employee benefit plans. She lives in Virginia Beach with her Chesapeake Bay Retriever.
Blue is most passionate about finding homes for shelter animals and educating the community on how to be responsible pet parents. However, she encourages everyone to get involved in the VBSPCA's mission in any way they can. Her advice: "Find the one area [of the mission] you are most passionate about to become involved in, whether that be volunteering time in our kennels, attending our fundraising events, joining the board, or, if your time is limited, donate!"
The VBSPCA cannot work towards eliminating animal suffering without the support of dedicated community members like Blue. We truly appreciate all she does for our animals!
If you are interested in serving on the Virginia Beach SPCA Board of Directors, please email Derby.Brackett@vbspca.com for more information.