Meet VBSPCA Board Member Peyton Hoffler
Peyton Hoffler is no stranger to animal shelters. She started volunteering when she was in high school and eventually worked as a sales representative/adoption coordinator at a dog rescue in Los Angeles. Now she is taking on a new role in animal welfare: serving on the Virginia Beach SPCA's Board of Directors.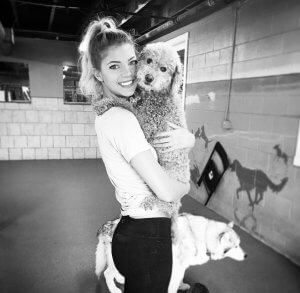 "I have always enjoyed being hands on helping the animals, and now I am at a point in my life where I can also be a financial support and help with creative fundraising ideas," Hoffler said.

Additionally, Hoffler has experience working in the service and mortgage industries. While her focus now lies on starting a family, she makes sure to carve out time for her two passions: philanthropy and art.

"My goal in life is to do my best to even play a small role in eliminating animal suffering, and to do that you have to work to increase human compassion for animals," said Hoffler. "We have to help the ones that can't help themselves."

Hoffler champions the many ways the community can get involved with the VBSPCA. From events to volunteer opportunities, she spreads the word to help us connect people and pets. "Helping animals and people is what makes me the happiest," she explained.

We are happy to welcome Hoffler to the VBSPCA Board of Directors. It takes involvement from caring people in our community to make a difference in the lives of homeless animals!

If you are interested in serving on the Virginia Beach SPCA Board of Directors, please email Derby.Brackett@vbspca.com for more information.