Happy Tails | Basil
Every single animal that comes through our shelter has a story. Some are complex, many are sad, but all of them get better the minute they arrive at the Virginia Beach SPCA. Basil came to the VBSPCA in March 2022 when her previous owner could no longer care for her. The one year old rabbit has a very spirited personality and was in need of a rabbit-savvy family. Basil was bullied by another rabbit in her previous home, so she would also need slow introductions to any resident bunnies.

Month after month, Basil waited for her forever home. More than seven months later, her adoption dreams finally came true on October 23, 2022. We recently caught up with Basil's adopter, Stephi, to get an update on how the feisty little rabbit is doing now.
How did you find Basil?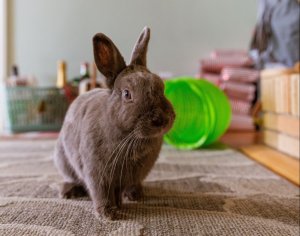 I had been sort of browsing local shelters for another rabbit because we had Brooklyn (our other rabbit) and were worried she was lonely at home by herself all day. When we went to visit with Basil she was a bit spicy and vocal, but she did let my husband pet her and calmed down, so I thought she would be a good fit for us and our other bunny. Since she had been at the shelter for a while, we figured she would mellow in a quieter home setting.
How is Basil doing in the home?
She is still spicy and very opinionated about when is a good time to get loved on and fed. Her and Brooklyn have some moments, but for the most part they lay together and eat together. We're hoping they will be able to meet, without fences, by mid-January. I do think they both enjoy having a fellow rabbit to hang out with.
What sort of activities do you do together?
We let the girls each have time in the living room in the evenings when we are home. Basil is still exploring that space and will occasionally get the "binkys" (happy bunny jumps and runs) and zoom all over.
Does Basil have any funny quirks?
She is not a good hound like our other girl but is slowly learning to enjoy fresh greens (kale is her favorite) and now stares at us when she hears the treat jar rattling. So far there's only one treat she likes, apple cookies, but she does enjoy the occasional cherry tomato!

In the morning she will come to the edge of the fence and "loaf up" (sit in a ball) and wait for a pet.
How has Basil enriched your lives so far?
We've enjoyed her different personality. Our other girl is very sweet and wants to be the center of attention all the time, but Basil stays more to herself. When she asks for attention, it's more special.
Why do you think people should consider adopting a shelter pet?
Shelter pet or not, all animals have quirks. It doesn't make them bad or not worthy of understanding. There's so much reward in taking in a pet with quirks and getting over hurdles with them. I can't recommend adopting a rabbit enough, they are amazing pets for busy families and so fun!