Happy Tails | Espresso
Espresso is one of two puppies from the Virginia Beach SPCA that has been selected for the 2023 Puppy Bowl on Animal Planet! In addition to being a famous puppy athlete, Espresso is also a beloved pet who fell in love with her family right here at our shelter.
Espresso was abandoned along with her 10 hound mix littermates in North Carolina in September 2022. They were alone on the side of the road, scared and without their mother at only six weeks old. The pups were taken to a local shelter before being transferred to the VBSPCA, where they received weeks of care before they were ready for the adoption process.
Once Espresso was ready for her shot at a forever home, it didn't take long for her to catch the eye of Jazmine and her family. She was officially adopted last October. We recently caught up with Jazmine to hear more about Espresso's home life before we get ready to cheer her on in this year's Puppy Bowl!
How did you know Espresso was the one for you?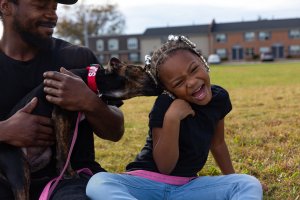 We decided we wanted to add a dog to the family so we went to the VBSPCA. Derrick [Jazmine's partner] saw her first and instantly wanted to spend time with her. When we took her in the room, she instantly came to me and got in my lap. My heart melted and I remembered my family saying, your dog picks you, you don't pick the dog. She jumped all over Cynia [Jazmine's daughter] and Derrick too. I knew she was meant for us, but unfortunately there was a family who had applied to adopt her first. I was so nervous because we had fallen in love with her and there was a possibility we wouldn't get to bring her home. Fate was on our side because the other family's application fell through. 
How is Espresso doing in the home?
Espresso adjusted well. She feels like the missing piece to our family. She brings so much joy, especially to our daughter.
What sort of activities do you do together?
We play outside a lot. Her favorite thing to do is play tag and tug-of-war or chase after Cynia and Derrick. She is super affectionate and loves cuddles and to be rubbed. 
Does Espresso have any funny quirks?
Anytime she does something she's not supposed to do she turns her head to the side and then turns her face up to ignore you. It's hilarious because you can tell she understands that she's not supposed to be doing something. 
How has Espresso enriched your lives so far?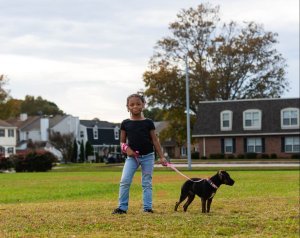 After a long day of work or school, Espresso always greets us with plenty of love and energy and excitement. She's a joyful dog to be around. 
We are first time pet owners. One thing we learned is, just like babies, there is no manual. You learn as you continue to grow with your pet and y'all learn from each other. Be patient, be kind, and make sure your fur babies feel included and loved. 
Why do you think people should consider adopting a shelter pet?
I think people should adopt from a shelter because, just like humans, we all need love. A lot of times I feel shelter pets are passed over but they just want to have a forever family.
Be sure to tune in to this year's Puppy Bowl to see Espresso in action on Sunday, February 12th at 2:00pm on Animal Planet! You can also join us for our Puppy Bowl Tail-Gate Party to meet Espresso and our other pup star, Briscoe. Click here for details.