Brad Kuether | In Service to the Animals Since 2013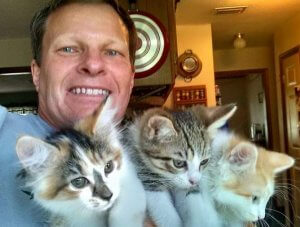 Brad Kuether has been serving on the Virginia Beach SPCA Board of Directors since 2013. His initial involvement with the organization began through our volunteer program, through which he donated his time and energy to both our kennel and foster programs. Eventually he was approached by leadership to join the board as a representative of our shelter volunteers, and he has been in board service ever since.
Brad's professional life has been a mixture of military service in the US Navy and working in private industry. He spent 24 years as an Officer in the Navy, starting out flying A-6E Intruder aircraft, later serving as an Instructor at the Naval Aviation Schools Command, and completing tours at a Tactical Air Control Squadron, CINCLANTFLT, MIDLANT, and finally at Second Fleet. Brad also worked as the Training Development Manager for Coastal Training Technologies and as a contractor on several training development projects including developing the first computer based SCUBA knowledge training. For the past 13 years, he has worked for General Dynamics Information Technology as a Project Manager. He has managed projects for various customers including the US Navy, NATO, FAA, and currently to develop F/A-18 Pilot training for the Finnish Air Force. Brad's board service has allowed him to remain involved with animal care, and he continues to foster kittens on a regular basis. He has served as co-chair on our Mutt Masquerade planning committee and has been a committed running participant in the event for years. Brad encourages members of our community to join the VBSPCA mission through volunteerism, event attendance, and donations.
Brad Kuether's voice on the board is important as he represents the many members of our community who share in his experiences, interests, and passion for animal welfare. Thank you, Brad, for your dedication to the Virginia Beach SPCA.
If you are interested in serving on the VBSPCA board, please email Derby.Brackett@vbspca.com for more information.