Happy Tails | Rambler
In the spirit of Thanksgiving, our November Happy Tails highlights an adopter for whom all of us at the Virginia Beach SPCA feel a tremendous amount of gratitude – our very own Derby Brackett. Derby has been serving the VBSPCA since September 2017. She first joined the organization as a board member, then stepped in as Interim CEO 6 months later, and she took on the official CEO position in March 2019. However, it wasn't until January 2020 that Derby adopted VBSPCA pup Rambler, and together they represent one of over 2,700 happily ever afters from this past year.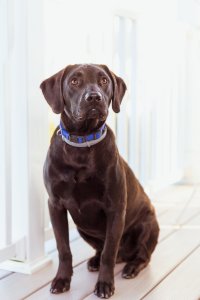 Rambler's Story
Rambler and his 8 littermates arrived at the VBSPCA on December 26, 2019. They were barely 6 weeks old, motherless, and all of them in need of medical care for serious parasitic infections. After the puppies were treated in our clinic, our shelter team placed the puppies in foster homes where they would be able to rest and recover until they were ready for adoption. Placement for all 8 pups was secured in less than 24 hours, and our Director of Philanthropy, Emily Peck, had signed up to take Rambler and one of his brothers home on foster. However, Emily was out of town for the holiday weekend, so Derby stepped in to foster Rambler and his brother until she returned.
This was Derby's first foster experience, and her weekend with the puppies was both challenging and rewarding – but mostly rewarding. Resident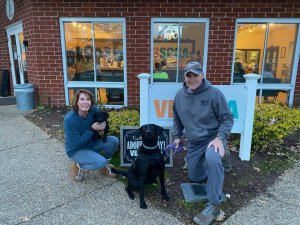 pet Rainey Storm warmed to the pups' presence in the home, and her nerves shifted to curiosity. Everyone was friendly in no time. A few days of fostering turned into a few weeks of fostering, and when it was finally time for Derby to bring the puppies back to the shelter, Rambler was already home.
His First Year with Derby
At the end of this year, Rambler will celebrate his one year anniversary with Derby and her husband Doug, and what a year it has been. Despite the chaos us humans were experiencing throughout 2020, Rambler experienced a year of chasing waves at the beach, digging holes in the backyard, walking in the park, and playing with his big sister, Rainey Storm. He spent much of the year taking up too much space in the bed, being startled by the vacuum, and harmonizing with the sirens. He made a few appearances in Zoom meetings and ruined a few shoes, but overall he brought immense joy and unlimited entertainment to his humans. For Rambler and all of our animal friends, 2020 was a year of being loved by their human companions, and that love is central to everything we do at the VBSPCA.
In Thanks
We offer our thanks to Derby for providing Rambler with a loving, forever home, and we thank her for the compassionate leadership she uses to guide the entire VBSPCA team every single day. Derby leads with compassion and dedication – and, as 2020 has taught us – when nothing goes as planned, compassion and dedication matter most.