Happy Tails | Lianides
Every single animal that comes through our shelter has a story. Some are complex, many are sad, but all of them get better the minute they arrive at the Virginia Beach SPCA. Lianides came to the VBSPCA as a young puppy in March 2021. His previous owners were unable to take care of his litter, so the Labrador Retriever mix and his four siblings were placed into one of our foster homes until they were old enough for the adoption process. Once Lianides was available for adoption, he quickly caught the eye of Shonda and her family. They officially adopted Lianides on May 3, 2021. We recently caught up with Shonda to see how Lianides is doing in his forever home.
How did you know Lianides was the one for you?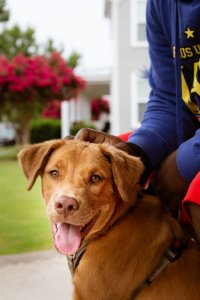 We found Lianides on the VBSPCA website under the puppy section. We knew he was the one when we saw his playful energy and beautiful green eyes!
How is Lianides doing in the home?
Lianides is doing great in his new home with us and his dog brother, Chase, who we adopted in November 2020 from the Norfolk SPCA. Lianides roams the house as if he was born there.
What sort of activities do you and Lianides do together?
We attend the dog park so he can run around and play freely. We play tug-o-war with his rope toy, ball, and catch.
Do you have any funny stories to share from your time together?
When he was neutered and he had the cone around his neck, it was funny to see him climb the stairs in the house. He would get knocked back but he would not quit: he was determined to make it up with everyone else. He got lots of cuddles at that time.
How has Lianides enriched your life so far?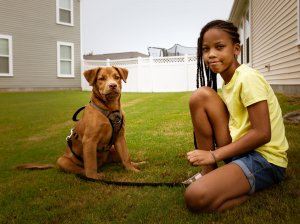 Lianides has been amazing in our family. He has enriched our lives by being there to cuddle, to hug, to play with, to bring smiles to our children's faces – the little ones especially because he is very young just like them. Now Chase has a dog puppy pal to run around with and match each other's energy.
Why do you think people should consider adopting a pet from a shelter?
If anything, to simply experience feeling love at first sight And making a shelter animal feel loved and special is heartwarming in itself.