Happy Tails | Buttercup
Every single animal that comes through our shelter has a story. Some are complex, many are sad, but all of them get better the minute they arrive at the Virginia Beach SPCA. Buttercup came to the VBSPCA in December 2020. In addition to a second chance, the six year old Calico needed surgery for severe dental disease. Buttercup got the medical care she needed at our clinic and waited for her adoption dreams to come true in our cattery. For a while, she was our longest feline resident. That all changed when a woman named Terri brought her daughter to meet our cats in May. We recently caught up with Terri to hear the rest of Buttercup's story.
How did you know Buttercup was the one for you?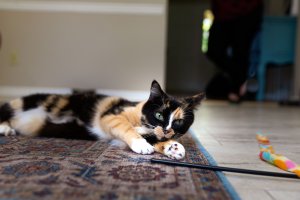 My daughter really wanted to get a cat. We have two dogs and our cat (Jonah, 17) had to be put down in December. I had been looking at the VBSPCA website for about a week and always seemed to end up at Buttercup's picture. It was my daughter who made the final decision. She saw Buttercup and looked at a few other cats, but Buttercup was our girl. We had discussed in the past that we didn't want to get a kitten, we wanted an older animal since they need good forever homes too. I surprised my daughter after school and just drove to the VBSPCA. As soon as she saw where we were going, she started to cry. She knew we were going to see the cats.
How is Buttercup doing in the home?
Buttercup is settling in very well. We have been doing a slow interaction with the dogs. She spends most of her time in my daughter's room, and sleeps with her. It's her happy spot. I've found her sleeping on top of my daughter. She is super sweet and loves belly rubs. She is very vocal as well.
What sort of activities do you and Buttercup do together?
She LOVES the laser pointer. She will chase that light all over the upstairs forever. She also has ball toys and string toys that she loves.
How has Buttercup enriched your life so far?
Buttercup has brought us so much joy. She is just so sweet and we love her so much. I'd like to think she knows we're her people and she's here forever.
Why do you think people should consider adopting a pet from a shelter?
I definitely think folks should adopt from shelters. The pets that are there, it's not from any fault of their own. I know people have different reasons for not being able to keep a pet, but the poor babies all deserve to have a great home where they will be loved, comfortable, and taken care of. I would recommend older animals because people usually want puppies or kittens but the older ones need love too.