Happy Tails | Sadie
Every single animal that comes through our shelter has a story. Some are complex, many are sad, but all of them get better the minute they arrive at the Virginia Beach SPCA. Sadie came to the VBSPCA in December 20222 when her previous family was moving and couldn't take her with them. The laid-back lap cat needed treatment for a flea allergy to get her feeling and looking her best.

While Sadie waited for her forever home, she got to know a volunteer named Margaret. One of her cats had recently passed away, and she took a special liking to Sadie. We recently caught up with Margaret for the rest of the story.
When did you adopt Sadie?
We adopted Sadie on February 2, 2023.
How did you find Sadie?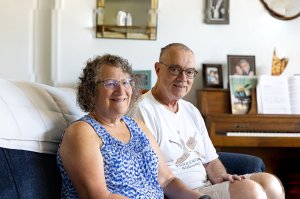 I first met Sadie as I was feeding and cleaning her condo [while volunteering]. When I first met her, she had a flea allergy and was missing a lot of fur. One of our senior cats, Midnight, had passed away at Thanksgiving, and our other cat, Nicky, was in need of a feline companion. Sadie was noted to have lived with other cats previously, and even had some physical similarities to Midnight. When I took Sadie into the visiting room, she climbed on my lap for attention and became playful. My husband, Richard, came with me to meet her and the decision was made.
How is Sadie doing in the home?
Sadie made herself at home on the second day at our house. She walked around from room to room exploring, and our other cat followed behind as if he was the realtor and she was the house hunter. Every day the two cats got friendlier and very quickly they were grooming each other and sitting side by side. This happened much quicker than I expected. Now they race around, play with each other, and entertain each other.
What sort of activities do you do together?
When Sadie is not playing with Nicky, she enjoys looking out the window, chirping at birds, or playing with my socks or cat toys. She sleeps at the foot of our bed and tries to claim her space on the living room recliner.
How has Sadie enriched your lives?
Sadie has become part of our family. She has rejuvenated Nicky and added to our lives with her playfulness and curiosity.