Happy Tails | Me Me
Every single animal that comes through our shelter has a story. Some are complex, many are sad, but all of them get better the minute they arrive at the Virginia Beach SPCA. Me Me was brought to the VBSPCA in September 2022 when her previous owner could no longer care for her. The sweet senior cat was very shy and was continually overlooked by potential adopters.

However, Me Me had a couple of very special visitors – Erin and her partner, Andy. They were initially unable to adopt but dropped in to visit her over the course of a few months. Me Me's big day finally came in January 2023, when Erin and Andy officially adopted her and took her home after she spent four long months in the shelter. We recently caught up with Erin for Me Me's full story.
How did you you know Me Me was the one for you?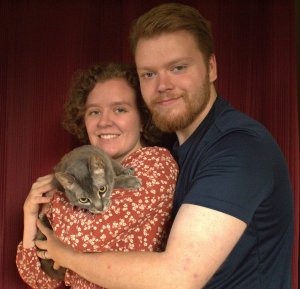 My partner and I used to visit the VBSPCA every weekend to get to know the senior cats as at the time we couldn't adopt. The cattery staff would pick out a senior or shy cat for us to spend time with and help socialize. One weekend in early October 2022, we were asked to sit with a particularly nervous senior cat, which was Me Me. She didn't let anyone pet her so we sat with her for about 40 minutes that first visit just talking to her, and she eventually let us pet her a little bit. Over the course of a few weekends, she started purring within 5 minutes of being with her and rolled over for belly rubs at each visit. She still hadn't liked anyone else at this point and we knew she was meant to be a part of our family. By coordinating with the cattery staff, we were able to set her adoption date and bring her home!
How is Me Me doing in the home?
Me Me is doing very well, cuddling tons and playing with all her toys. Even at the age of 12 she still gets zoomies!
What sort of activities do you do together?
We birdwatch out the window, and she loves chasing her toys around and pouncing on treats we toss to her.
Does Me Me have any funny quirks?
She doesn't really meow much, but as she has gotten more comfortable, she chirps at us all the time. She is very silly and obsessed with rugs, rolling around [on them] while purring or using them as a scratcher.
How has Me Me enriched your lives so far?
Me Me has brought our family so much joy, from constant cuddles every night and morning to hearing her little paws shuffling around when she gets zoomies. She is such a sweet, silly, and loving member of our family and we couldn't be happier to have her!
Why do you think people should consider adopting a shelter pet?
We think people should truly consider adopting from shelters as there are so many animals with different personalities that you can get to know to find the right fit. We really encourage people to look at senior animals when adopting; they can be just as fun and playful as any other pet! So many people overlook them, but we love our sweet senior girl so much!