Happy Tails | Citrus
Every single animal that comes through our shelter has a story. Some are complex, many are sad, but all of them get better the minute they arrive at the Virginia Beach SPCA. Citrus was brought to the VBSPCA as an older kitten in need of medical attention in September 2022. He was born with a painful birth defect in both eyes, and the VBSPCA clinic team surgically removed them to alleviate his discomfort. As he adjusted to life as a blind cat in the shelter, he quickly became a staff favorite and would even take walks around the cattery on a leash.

Once Citrus recovered from his surgery, it didn't take long before he got the attention of one couple who was visiting the shelter. On November 13, 2022, Christine and her husband welcomed Citrus into their home. We recently caught up with Christine to get an update on Citrus.
How did you find Citrus?
We saw a sign that said to "ask about Dooby," which was Citrus' name at the VBSPCA. When I did, he was instantly just so lovely and food motivated, which was super cute. I knew I wanted to bring him home and give him the life he deserved. My husband has renamed him Citrus for his spicy little attitude he can have.
How is Citrus doing in the home?
He is doing so good. He has two siblings that he spends his time snuggling with and running around the house with.
What sort of activities do you do together?
Oddly enough, Citrus loves taking baths. The bathroom is his favorite place. He also has three cat towers that he proudly gets to the top of. He also loves begging for my food at my feet like a dog would do. It's my favorite thing.
Does Citrus have any funny quirks?
With his love of the bathroom comes the funniest thing ever: I call them his jumping jacks, where he stands on the corner of the tub, faces the tile on his hind legs with his arms up, and – for at least a minute – he jumps in one spot. Also another funny thing that he does is put his front feet into the food bowl while he eats.
How has Citrus enriched your lives so far?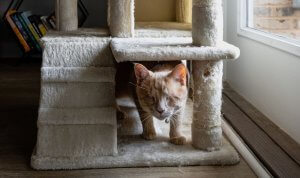 He certainly can be entertaining. He makes us laugh but he is also quite the perfect companion to me and my husband. He completes our little family and he brings a personality of his own that makes me happy to come home to every day.
Why do you think people should consider adopting a pet with special needs?
I think the biggest misconception is that pets with special needs are hard to live with or require more attention, but Citrus is super intelligent. I assumed I'd need to teach him everything to live a happy life, but the first thing he did when he got home was sniff out his litter box and use it. He is just like his brother and sister, just missing some parts.
Is there anything else you would like to add?
I have worked with the VBSPCA on many different occasions as far as adopting two loving pets, seeking medical care [at the VBSPCA Clinic], and volunteering for Beach Buddies. I can say it is one of the greatest pleasures in my life choosing to adopt my cats from the VBSPCA. They hold all my happiness, and I truly hope everyone can experience adopting special needs animals, elderly animals, or even animals that just need a chance at life again.