Happy Tails | Churro
Every single animal that comes through our shelter has a story. Some are complex, many are sad, but all of them get better the minute they arrive at the Virginia Beach SPCA. Churro came to the VBSPCA in December 2020 in need of medical attention and a second chance. The six year old Beagle mix hadn't had the best care – she was heartworm positive from living outdoors and suffering from an inguinal hernia. Churro's luck began to change when she walked through our doors, and her happily ever after came when she met Heather at the end of February 2021. We recently caught up with Heather to talk about the rest of Churro's adoption story.
How did you find Churro?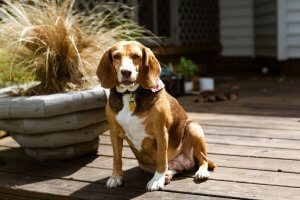 I found Churro on the VBSPCA website, she had the sweetest face and the description said she was a snuggler. She had some health problems, the biggest one being heartworm disease, which was intimidating, but I also knew that was a short-term issue and the unique circumstances of the pandemic meant I could be home and give her the extra supervision she needed those first few months during her treatment. I went with my dad to meet her in person and the room they put us in only had a small bench that we could barely fit on. When Churro came in I could tell she wanted to jump up onto the bench too, but I was sure she wouldn't be able to fit. Next thing I knew, she had found her way up there, perched precariously between us. It showed me how much she craved love, and how she goes after what she wants.
How is Churro doing in the home?
Overall she has adapted well. Her previous owners kept her outside so there were a lot of things she had to adjust to. It was a couple of months before she was fully house-broken, and she also had severe separation anxiety, but over time she's gotten so much calmer and better at coping.
What sort of activities do you and Churro do together?
Churro loves going for walks more than any dog I've ever known. The first three months I had her, she was restricted to being in the yard on a leash because of her heartworm treatment. When she was finally allowed to be more active and explore, she was so excited. She gets very impatient when she thinks it's time for her morning or evening walk, and when she sees me get her harness she's so animated it's difficult to put it on. Churro also likes riding in the car and visiting parks, as a Beagle/Hound mix she wants to smell and investigate everything.
Does Churro have any funny quirks?
She loves stealing toys from the other family dog, Divi. It's hilarious to watch her go to Divi's bed, sniff around to find the perfect toy, then sprint off to hide it upstairs. I bring the toys back when she's not looking, and the process repeats. Thankfully Divi is a good sport about it.
How has Churro enriched your life so far?
She is an endless source of love, joy and entertainment. I love when she's pressed up against me snuggling on the couch, or bringing me the latest toy she has stolen.
Why do you think people should consider adopting a pet from a shelter?
To be transparent, there were a lot of difficult and frustrating moments the first couple months with house-training, dealing with the separation anxiety, and bad reactions to the steroids she needed for her treatment. But seeing firsthand how being in a loving home transforms animals proves it was all worth it. Churro always had sweet and endearing moments, she just seemed unsure of how to show and receive affection and had so much anxiety around anyone aside from me. It's been unbelievably rewarding to watch her become more relaxed and confident, and she also seems so much healthier since completing her treatment and being able to exercise. Shelter animals may need extra time and care to adjust to their new homes, but with patience and love they can become the best companions.