Happy Tails | Cali
Every single animal that comes through our shelter has a story. Some are complex, many are sad, but all of them get better the minute they arrive at the Virginia Beach SPCA. Cali arrived at the VBSPCA in August of 2019 as a young puppy. She wasn't in our care for very long. Delynda had been wanting to adopt a puppy, and the moment she laid eyes on Cali, she knew the little Golden Retriever mix was "the one". We recently caught up with Delynda to get an update on Cali.
How's Cali doing in the home?
Cali instantly took to our home and her big brother Lewie (a Llewelyn Setter). Even though she is smaller than Lewie she rules the roost. She is perfectly happy when we crate her, but we are now, as she is a little more than two years old, able to leave her out during the day with Lewie when we are gone for short periods. Cali is extremely smart and does well with training. She is extremely food motivated.
We have met some challenges that have given us the opportunity to love on Cali and pour more affection into her. She tends to be very fearful and somewhat anxious when meeting new people. It feels great to continue building her confidence as we watch her become more trusting of us and the new situations we experience.
What sort of activities do you and Cali do together?
Cali loves to go for walks and can't get enough of the car. Almost every evening my husband and I take the dogs out on our dock to watch the sunset on North Landing River at Munden Point. We have a gate on the end of the dock so we can unleash the dogs and let them explore safely. They enjoy watching the birds, the jumping fish, and the boats going by.
Does Cali have any funny quirks?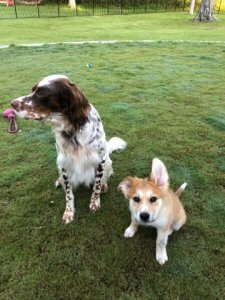 There's one I call the "Cali Flip." If she trusts a person and they pet her, she instantly melts and flips on her back without even trying. She absolutely adores belly rubs! She also knows when it is getting close to feeding time; she silently and suddenly appears, all the while attempting to look adorable, which she has no problem doing as she always makes her adorable Cali face.
How has Cali enriched your life so far?
Cali is such a bright light in our lives. It makes me so proud that she trusted me enough to bring her into our home. She keeps us giggling every day. She is pure joy!
Why do you think people should consider adopting a pet from a shelter?
People should realize that pets do not end up in a shelter on their own will. It is important to acknowledge that a pet's past life and home situation may certainly have a bearing on their demeanor. Animals deserve a second chance at a solid family life. Animals who are given care and affection will often flourish in the right loving environment.