Happy Tails – Apollo & Neptune
Every single animal that comes through our shelter has a story. Some are complex, many are sad, but all of them get better the minute they arrive at the Virginia Beach SPCA. Apollo and Neptune came to our shelter in November 2019 when their owner could no longer take care of them. The cats were very attached to each other and needed to go to a new home together. About a month later, Sylvie and her three teenagers met the pair and fell in love. We recently caught up with Sylvie to check in on Apollo and Neptune.
How did Apollo and Neptune come into your life?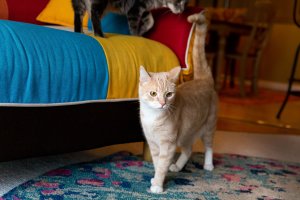 My teenage daughter was battling depression pretty hard last winter. One morning we decided we were going to go get a cat. We looked around the VBSPCA at all the gorgeous cats, but we loved the way Apollo and Neptune were bonded to each other. We also liked that they looked so different from each other.
How are your cats doing in the home?
It's their home now; they just let us live here. I have invested in two air purifiers and a Roomba, though.
What do the cats like to do at home?
They chase each other down the hall at quite a gallop. Whenever anyone witnesses their charging down the hall, they're very surprised at how loud and fast they are. That's my cue to say: "Ladies and gentlemen, the miniature horses of Catalina Island!" They really do sound like little horses.
How have they enriched your life?
I cannot believe I used to live alone. My three teenagers live with me part-time, so they're here some days, but I can't imagine ever coming home to an empty apartment, especially during this past year. The term "emotional support animal" shouldn't just apply to a particular animal; they're all emotional support animals as far as I'm concerned (and almost all of us could benefit).
Why do you think people should consider adopting a pet from a shelter?
Cats are easy because they like to do their own thing most of the time, but I do spend a lot of my time during the day taking pictures of my cats; they're always doing something cute or funny. I like that I was able to choose two cats that get along so well already – and also knew how to use the litter box. There are so many gorgeous pets who need homes. It's a great feeling to be able to provide one.