Dr. Towana Hunter, Ed.D | In Service to the VBSPCA for 9 Months
It was 15 years ago that Dr. Towana Hunter first got involved with the Virginia Beach SPCA. While working with Southeastern Cooperative Educational Programs, she brought students to volunteer at our shelter once a week. "It was such a great opportunity for them," says Dr. Hunter. "I love what the program has grown into."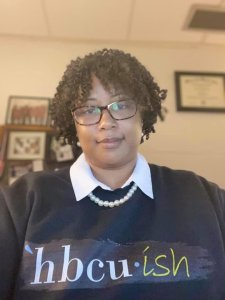 Fast forward to now, as Dr. Hunter is finishing her first year of service as a member of the VBSPCA Board of Directors. She began her career as a mental health technician before taking a role as a school counselor and department chair for the Virginia Beach City Public Schools. In 2020, she earned her doctorate in educational leadership and is transitioning into an instructional specialist this month.

Dr. Hunter lends her education expertise to influence the VBSPCA's humane education program, which instills values of kindness and respect in children. "I'm most passionate about creating responsible humans," says Dr. Hunter. "As a community, we depend on each other to do what is right when it comes to pets and animals. That includes vaccines, spay/neuter services, and overall commitment to providing the best care for your pet."

Much like her initial involvement with the VBSPCA, Dr. Hunter encourages others to volunteer. "Another way to get involved would be fostering an animal, or sponsoring a fundraiser." she adds.

Board members like Dr. Hunter are crucial to furthering the VBSPCA mission of eliminating animal suffering. We are thankful for everything she does to help our animals!

If you are interested in serving on the Virginia Beach SPCA Board of Directors, please email Emily.Peck@vbspca.com for more information.