A Peaceful Place for Pets and Their People
Animal shelters and veterinary clinics are not often thought of as tranquil. However, a recently completed project has transformed part of the Virginia Beach SPCA's property into a peaceful place for pets and their people.

The VBSPCA Memorial Garden has officially reopened after a major revitalization effort. The area now includes a pathway for shelter dogs to enjoy a walk in the shade; a relaxing waiting area for clinic clients; and an expanded memorial garden to remember beloved pets and animal lovers.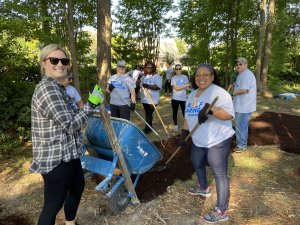 The community rallied behind this project every step of the way, beginning with a fundraising initiative that raised more than $18,000 in 2022. Last fall, a volunteer group from Sentara Health came out on the United Way Day of Caring to clean up the space so that new features could be installed. After custom memorial bricks, plants, and other elements were placed earlier this year, volunteers from TowneBank completed the transformation in September.
The next time you stop by to visit shelter animals or bring your pet to a clinic appointment, we invite you to take a moment to enjoy this beautiful new space. You can also order a memorial stone to be placed in the garden by clicking here.