Happy Tails | CoCo
Every single animal that comes through our shelter has a story. Some are complex, many are sad, but all of them get better the minute they arrive at the Virginia Beach SPCA. In September 2021, a female cat and her seven kittens arrived at our shelter. The feline family members spent a couple of months in a foster home until they were ready to be adopted. Once they returned in December, Christy and her family fell in love with kitten in particular: CoCo. We recently caught up with Christy for an update on CoCo.
When did you adopt CoCo?
CoCo was officially adopted on December 30, 2021.
How did you find CoCo?
My sister adopted from the VBSPCA several years earlier. She had a great experience there and we thought 'why not go there'. We were open to adoption, kitten or adult. We were the first that day to view the kittens and the whole family went. We settled on CoCo because she was curious and friendly. This is important because our daughter is active and CoCo would need to acclimate well with her.
How is CoCo doing in the home?
CoCo knows tricks, likes to sit and roll (for a belly rub). My kids say she is super sweet to all she meets. She loves to play with her tunnels and catnip filled fish. She is one of the best things to happen to our family. We love her!!!
Does CoCo have any funny quirks?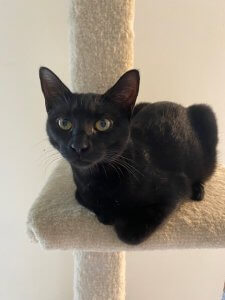 We bought all the necessities for a kitten, but the cat palace [cat tree] gifted by my sister is her favorite thing. Coco loves being above all of us. We also call it the lair. She will periodically take items back to her lair: pens, pencils, lip balm, hair scrunchies, receipts, anything she can carry or push/pull with her paws. She is a collector. Once we clean it out, she will go around and collect other items.

She is also a box hopper. Any empty box she hops in – she hops from one to another. I grew up with all kinds of animals. Having a cat was a new experience for my own family who only knew dogs. My family adores CoCo. She has brought us together in so many ways. My teenage son always says "she's just so cute."
Why do you think people should consider adopting a shelter pet?
All animals need love, respect, and a home. Adopting an animal is important because you are making a conscious choice to open your heart, mind, and home to a wonderful experience.