Working Together for the Animals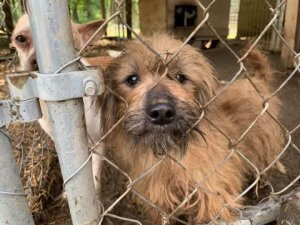 Bella came from a life of neglect. She had been kept outside with three other small dogs until her owners turned her and her canine companions over to PETA. Bella was transported directly to the VBSPCA where our team was ready to help. She arrived filthy and severely matted, but that didn't prevent her from being affectionate with everyone she met. Our team shaved Bella's mats and gave her a bath before settling her into a kennel. Within days, she was adopted into a loving home. A journey from neglect to a loving home was only possible because of this collaboration.


Bella's tale is just one of many successful stories that were made possible thanks to our transfer partner relationships. The VBSPCA actively partners with other animal shelters and rescues across the region and beyond in an effort to provide collaborative resources to animals in need. Sometimes animals are brought to us due to a lack of space at another shelter. On other occasions we take in animals in need of medical care that we are able to provide through our veterinary clinic and Miracle Medical Fund. Some animals arrive here simply because they have a better chance of being adopted due to our many visitors. In situations when an animal is not thriving in the shelter environment, we rely on rescue partners who can provide focused care until the animal is adopted. Whatever the reason, the many challenges that homeless animals face cannot be solved by one team alone.

The need for collaboration among shelter partners will always exist. While our philosophies and programs may differ, our shared focus on helping homeless animals is strong and united. The current homeless animal crisis has shelters across the country at capacity, each one taking a creative approach to finding and making space for animals so that euthanasia can be avoided whenever possible. The need for collaboration is relevant now more than ever, and the VBSPCA is focusing transfer efforts on our local partners to help alleviate the current crisis here in Hampton Roads. In May, over 75% of the animals transferred to the VBSPCA were from our local shelter partners.

This crisis is not going anywhere anytime soon, so we ask and encourage our community members to support the VBSPCA and our local shelter partners through adoptions and donations. We need your help to overcome what lies ahead.

Marco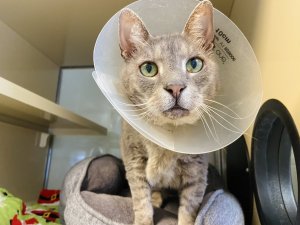 Marco came to the VBSPCA from our friends at Chesapeake Animal Services in February when they had reached capacity and needed help. Marco had severe skin allergies that had led to hair loss and extremely itchy skin. The VBSPCA clinic team gave him allergy medication and put him on a special diet. He became a favorite among our cattery team, who made sure he received enrichment and affection while in our care. Three months after coming through our doors, Marco found his forever family.

Hiccup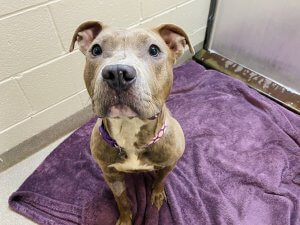 The Peninsula Regional Animal Shelter brought Hiccup to us in April. His story was heartbreaking, as he had chewed off his foot. It appeared a tether was wound around his leg, preventing movement and causing pain. Despite these tragic circumstances, Hiccup arrived at our shelter with his tail wagging and full of affection. Hiccup was rushed to our clinic, where our team quickly cleaned the wound and made him comfortable for the night. His leg was amputated the following day, after which point he spent time in a foster home to recover. One month later, Hiccup was happily adopted.