October 2020 Volunteer Spotlight — VBSPCA Employees
There are thousands of cats, dogs, and small animals that go through our foster program each year. These animals have medical issues, are too young to be in the shelter environment or need additional love and care. Our amazing fosters step in to provide that care, and some of these people are also employees who freely give their time away from the shelter to help special cases. Four of our employees who are also dedicated fosters shared why they love fostering. Read their reasons why below!
Ashley —
I started fostering animals when I was in college and it has added so much to my life. Looking for a new shelter to foster for after graduation is actually what led me to finding my job here. I went to the VBSPCA website looking to give a temporary home to some animals but I ended up finding a new home for myself. Of course I still foster, and it has put me in an incredibly unique position. The animals I foster all eventually go back to the shelter to find their forever homes. The time they spend with me allows me to get to know them more than I ever could in the shelter environment; so when it comes time to find their families, I can tell potential adopters so much more about each animal and help them find their perfect match.
I have loved every one of the animals that have come through my door, but this litter of kittens and their momma is by far the most entertaining. Having six extra cats in my house is absolutely a lot of work, but I am lucky to have my parents at home who not only put up with me bringing all kinds of animals back from work, but are happy to step in for a feeding, scoop a litter box, or walk a dog.
Sydney —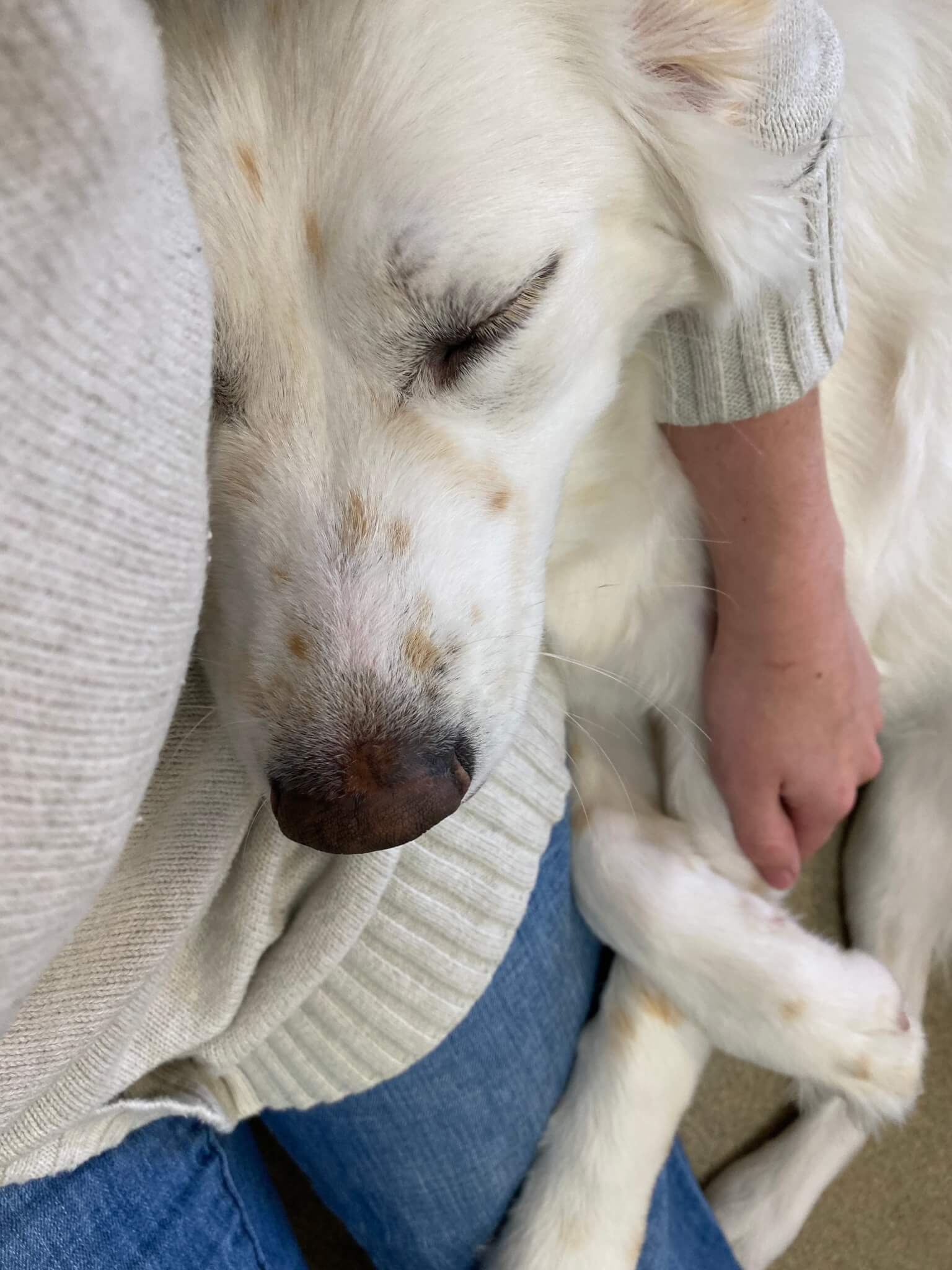 Marshmallow is a dog that will hold a special place in my heart for the rest of my life. He came to our shelter extremely shut down and scared. He stayed in the corner of the cage and would sometimes growl at kennel staff when they tried to handle him. I started sitting with him each day to let him know he was in a safe space with good people, and once he was comfortable, I brought him into my office to get a break from the other dogs. He was still having issues with stress, so I began to take him home on the weekends to prepare him for adoption and his new home. My young daughter and him immediately bonded, and he loved curling up around her while she played with a toy or flipped through a book. But by far his favorite spot in my home was my closet, where he would scoot himself in between my clothes and shoes. Not the easiest feat for a 65 pound dog! Through this fostering experience, Marshmallow slowly regained his confidence and became the dog I always knew he had the potential to be. He was adopted by a wonderful family and I will always be grateful I was able to be part of his story. Fostering Marshmallow proved to me how rewarding it is to open up your home to animals that are in need of a little extra patience and love.
Kate —
Fostering small animals was not something I anticipated doing, but I have now fallen in love with nurturing these amazing animals. My first experience fostering a small animal started when a couple walked into the shelter with mom and seven newborn mice. I've had mice in the past so I couldn't say no. Three weeks later the mom, who I named Jennifer, unexpectedly gave birth to her second litter of 10! Thankfully she is a rock star and nursed them all. The hardest part was determining the gender of the pups early enough to make sure our shelter did not end up with more unexpected litters. While I was fostering both litters, it was so rewarding to watch them grow and become independent. After all the mice were successfully returned to the shelter, I adopted Jennifer, and she is now living her best life with no more pregnancies!
Kory —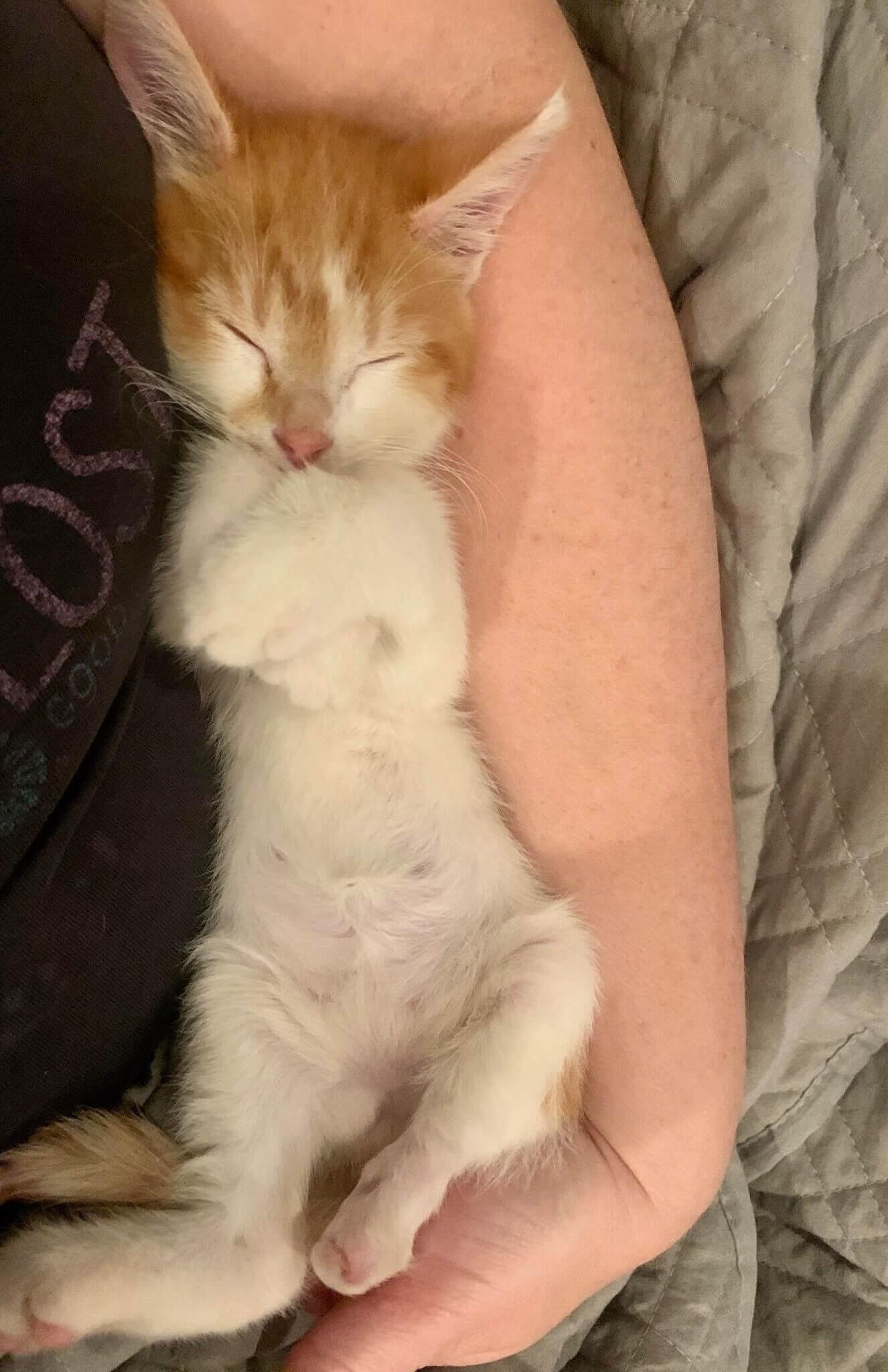 As the lead vet assistant at the VBSPCA Clinic, I see almost all of the sweet animals that come through the doors of the VBSPCA. Many are happy and healthy, ready for their new forever home, but some are depressed, stressed, sick, or hurt. I have a soft spot for those. Those animals need extra love, extra care, or a quiet place to heal. Fostering is so important for these animals. Kittens like Captain, who was found in a warehouse, all by himself, missing a foot. He was hurting and his wounds were open and infected. Luckily he was brought to us and we immediately cleaned and wrapped his leg and then started him on antibiotics. For the last 5 weeks, he has been living in my home with my two cats who are teaching him how to play and be a great kitten! Without his daily medication, bandage changes, and a quiet, loving, safe home, he would not have healed as well as he did. Captain will be ready for adoption soon and will make a great addition to his forever family!
If you would like to get involved with our foster program, please email us at foster@vbspca.com.