December 2019 Volunteer Spotlight — Sara Hall
How did you get involved with walking dogs at the VBSPCA?
My husband and I wanted to find something good as there was so much negativity in the world.  We had talked about volunteering at a shelter off an on for a few years.  We chose the VBSPCA since we adopted our dog as a puppy in 2018.  The shelter saved him as a puppy when he had parvo (pre-adoption) and helped us train him for success.
Why is walking shelter dogs important?
There are so many reasons that walking the shelter dogs is important.  First impressions matter, for shelter dogs that is cage presence.  When a dog has excess energy, he may jump and bark as people walk through the shelter.  That is especially true for larger dogs. This can be a deterrent for potential adopters.  So many are afraid of getting a dog that is just "too much." That is why getting them out for 10-15 minutes to get out energy and allow them to sniff things (which stimulates their brain) helps them have better cage presence. During the 9 months that I have been volunteering that I have taken many dogs on a mile to a mile and a half run.  These are the high energy dogs that needed that extra something in order to have good cage presence.  Another reason it is important is it gives the shelter/volunteer a chance to see the dog outside of the shelter.  To see how they walk on a leash: are they easily distracted, are they love bugs, are they looking for approval?  Walking is one-on-one time with that dog. Lastly, a selfish one, it is great exercise.  I burn about 700-1,000 calories walking the dogs every Saturday and Sunday!
Are there any special dogs you would like to highlight?
One of my running buddies, Ares, has been in the shelter for almost 4 months now.  He is a gorgeous brindle pittie mix that is just a love bug.  He is high energy, so we run as much as we can.  He is a great running partner for anyone looking for one.  He'll push you but will stop easily when it is time to walk. His cage presence isn't the greatest, so he has been overlooked so many times. But honestly, how would you feel after 4 months in a 3′ x 8′ kennel run?  He is going a little stir crazy waiting for his perfect person to come along.  Once that person comes, he will be the best dog for an active family.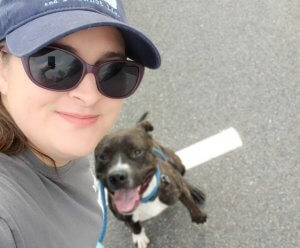 Why should someone volunteer in the kennel?
While there are multiple areas in the shelter that you can volunteer, I felt volunteering in the kennel is the most rewarding.  There are so many dogs that come through.  The staff is constantly trying to rotate them outside in the yards, feeding them, giving medications, cleaning, and have to interact with the potential adopters.  On the weekends when I am there, the shelter is usually very busy.  Having volunteers to help with the needs of the dogs allows the staff to focus on the potential adopters.  You get to know the dogs when you walk them every week, so you can help speak to that if someone has questions.  You also can sit with the dogs and puppies and get unlimited amount of snugs and kisses.  What is better than puppy kisses?
Any dog-walking tips?
Remember that every dog is different.  Allow the dog to sniff around as it helps wear them out mentally. However, the dog also needs to know that you are the one leading the walk.  You need to be firm and confident. If a dog pulls when you walk them, simply stop until they stop pulling. From experience, it won't correct it immediately and you will likely have to stop many times during the walk and for several walks.  Bring treats to give them when they are walking appropriately as it will help reinforce that behavior.