December 2019 Volunteer Spotlight — Josh Hall
Why did you decide to volunteer?
Both my wife and I decided to volunteer in memory of our previous rescue pets that had passed away. Having had rescue pets most of our lives, we were already big supporters of "adopt, don't shop" and wanted to find a way to do more. It wasn't until we adopted our current dog, Thor, from the VBSPCA that we realized how and where we wanted to volunteer. The entire experience was so positive that we both just knew the VBSPCA was where we wanted to give back and volunteer.
What is the best memory you have from an event you volunteered at?
I think my best memory from an event would have to be the very first event I volunteered at. The event was at apartment complex in Virginia Beach and I was asked to take a young hound named George. While at the event, a young man who lived in the complex came down to meet with George. The young man spent nearly the entire two hours getting to know George, and was so excited and happy that we brought him to the event. The young man had been looking at George's adoption profile on the VBSPCA's website and because I was able to bring him to the event, he was able to meet and interact with George. A few days after the event, he came in and adopted George. It was such an awesome experience!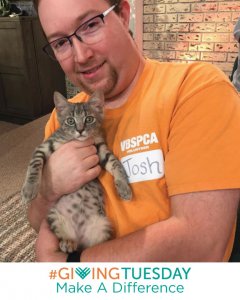 Favorite adoptable animal and why?
All rescue pets are awesome, so it's really hard to pick a favorite. That said, I tend to be more of a dog person. Dogs are awesome. Whether they're a puppy or a senior, a dog has the ability to be so much more than just a pet. They can be your best friend, protector, comedic relief, and even your therapist. A dog will give you everything they have and all they ask for in return is love and maybe a few french fries.
What is one thing you want people to know about the VBSPCA?
I think the one thing I want others to know about the VBSPCA is just how much they care about their mission and about improving the lives of all animals. Not only do they offer the ability to adopt, but they provide so many other services to help animals. They offer low cost medical services through their in house clinic and the Neuter Scooter. While these are only some of the many services the VBSPCA provides, none of this would be possible without the hard work of the amazing staff. From the moment you walk through the shelter doors, you can tell you are in a place where the love for animals is the number one priority. To anyone who has ever thought about volunteering or adopting an animal, I would encourage you to check out the VBSPCA — you won't be disappointed.