January 2020 Volunteer Spotlight — Bob Schirmer
This month we are highlighting Bob, a valued volunteer who makes a big difference in the lives of our shelter dogs. The VBSPCA relies heavily on volunteer service to provide care for all of our animals, and we are grateful for every single hour served. Thanks Bob for all you do!
Why did you start volunteering at the VBSPCA?
After I retired a year ago I needed something to do to occupy my time. I figured this was a great way for me to spend my days. The people who work back there are so nice and I really enjoy helping them out where I can.
Why do you prefer to help in the kennel?
I've loved dogs all my life. I try my best not to get too attached though because I have a problem of wanting to take them all home with me. There have been a couple that I've started to get attached to, but then they get adopted and it makes my day. I love working with dogs and helping in that area of the shelter.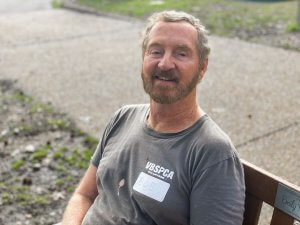 You have a unique story about meeting your dog. Can you tell us about it?
My dog died in 2011 and I started looking for another flat-coat retriever. The rescue that I chose was based out of state but agreed to meet me in Virginia. So I met them at an animal shelter that was in the middle of the woods. They had the dog outside to go to the bathroom, so I went out to meet her. I went down on my knees and called out her name. She broke free and came running to me, but when she got close she decided it would be a good idea to jump. Her nose went straight into my left eye and now I'm permanently blind in that eye. It's okay, I got a helicopter ride and a great dog out of it.
Why should someone volunteer in the kennel?
We always need guys back there. It's hard manual labor with not a lot of time to get it done. When I was doing my orientation, I asked when the kennel needs the most help, and I was told the two hours before opening since so much has to get done. I enjoy it because I get the work done, walk a few dogs and then go home. There is a great group of people back in the kennel so I don't mind the work.
If you are interested in volunteering in the kennel or any other area of our shelter, please visit www.vbspca.com/volunteer for more information.