June 2020 Volunteer Spotlight — Joanne Emerson
Joanne Emerson has been an amazing behind-the-scenes volunteer with the VBSPCA since 2016. She washes dishes in the kennel multiple days a week, which gives our animal care technicians more time to make sure our canine friends are given the best care possible. We are so thankful for her dedication to our mission. Read more about why she loves volunteering below!
Why did you decide to start volunteering at the VBSPCA?
I moved to the area and was looking for local volunteer opportunities. I found the shelter, went to the orientation and got started right away. I always had dogs in my life, so I started with the dogs because I thought it would be a good way to spend some time with them. I originally started with cleaning the cages and did that for a while until the work became too strenuous for me. I was aware of the dishwashing area and knew that was something I would be able to do.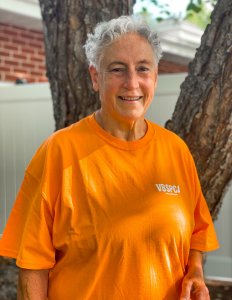 How has volunteering at the VBSPCA impacted your life?
Volunteering gives me something meaningful to do and it is an opportunity to help the dogs in a way that's beneficial to them. The VBSPCA has been absolutely great to me. I'm allowed to make my own schedule to come in when I can and do a job that's beneficial to the animals. I feel so sad for the animals that don't have homes, I love doing anything I can to support them. There are many other activities that I'm not involved in that the shelter does, so there is something for everyone.
Is there a specific adoptable animal that you would like to feature?
Most of the time there is at least one mom with puppies that are in the shelter. The puppies get adopted so quickly, but sometimes, the mothers have a harder time finding their perfect match. I would encourage anyone who comes to the shelter to meet with the mother dogs, they are some of the sweetest animals.