November 2019 Volunteer Spotlight — Donna Schnaars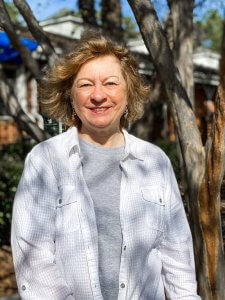 Why did you decide to volunteer at the VBSPCA?
I started volunteering here because I signed my husband up, and after he passed away, I enjoyed it so much I stuck with it. That was in the summer of 2017 and here I am now a regular volunteer with Visiting Paws and Listening Ears.
What is Visiting Paws and Listening Ears? Why do you serve in those programs?
Basically Visiting Paws is a chance for shelter animals to get out and socialize at nursing homes and daycare centers, and Listening Ears is generally the same thing but focuses more on helping children struggling to read build self-confidence by reading to an animal.
Why should someone volunteer at the VBSPCA?
Volunteering at an animal shelter is very fulfilling. You get to make animals lives better, but it also makes your life better. I love spending time with the people I meet through these programs and seeing their reactions to the animals. It's just a great feeling when you see a senior citizen's face brighten up when they see a dog enter the room.
Any favorite moments you would like to share?
There is one that stands out to me. I was at a memory center for Alzheimer's patients, and I know that's not for everyone. I had brought a puppy over and placed it on the lap of one of the patients. She began to pet the dog and all of a sudden her eyes lit up and she smiled at me. That experience made a huge impact on me.