Dr. Kimberly Key, DVM | In Service to the VBSPCA Since 2019
Dr. Kimberly Key began serving on the Virginia Beach SPCA Board of Directors in 2019. As a veterinarian, she wanted to see firsthand how the VBSPCA helped homeless animals in our community. "I was curious about the operations of the shelter and wanted to offer my assistance in any way I could," she says.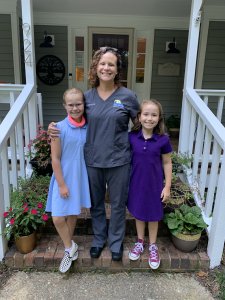 Dr. Key's passion for animal welfare is evident in all aspects of her life, both professionally and personally. While attending Old Dominion University for her undergraduate degree, she worked at the Virginia Aquarium. Dr. Key received her Doctor of Veterinary Medicine degree from Virginia-Maryland Regional College of Veterinary Medicine before returning to Virginia Beach in 2003. She then started at Bay Beach Veterinary Hospital as an associate veterinarian, where she later became the owner in 2014. In 2017, Dr. Key expanded the practice and opened Bay Beach Veterinary Emergency Hospital. 
In addition to serving the community, Dr. Key's practices assist the VBSPCA in handling wildlife emergencies – a role she says is very fulfilling for both herself and her staff. Dr. Key also has plenty of animals to care for at home. She, her husband, and her two daughters live in Virginia Beach with their three pugs and two cats.
Dr. Key encourages people to get involved in helping homeless animals in our area, noting that there are many ways to help. "I have been so impressed with the many ways the VBSPCA interacts with the community. It is clear that there is a philanthropic heart within the VBSPCA community."
Dr. Key's involvement with the board strengthens the VBSPCA's dedication to providing compassionate care for every animal who comes through our doors. Thank you, Dr. Key, for donating your time and expertise to our organization, and for providing loving care to all of your patients.
If you are interested in serving on the Virginia Beach SPCA Board of Directors, please email Derby.Brackett@vbspca.com for more information.