Dr. Heather Andrews, DVM | In Service to the VBSPCA for 9 Months
At five years old, Dr. Heather Andrews knew she wanted to become a veterinarian. Her love of animals pushed her to achieve that dream. That love now motivates her to help public pets and shelter animals alike.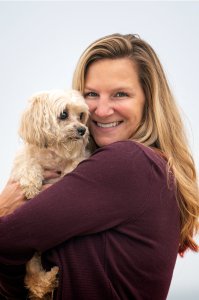 Dr. Andrews first began helping out at the Virginia Beach SPCA as a relief veterinarian in the VBSPCA Clinic. She was later approached to join the board of directors. "I believe in the mission of the VBSPCA and knew I could contribute to that mission," Andrews explains.

As a veterinarian at Beach Pet, Dr. Andrews enjoys focusing on internal medicine, dermatology, exotic care, and rehabilitation. She also has a special interest in shelter medicine and provides her expertise to the VBSPCA through her board position. "What I appreciate most about the mission of the VBSPCA is the role in eliminating animal suffering," says Dr. Andrews. "I have always been a voice for the silent, and I believe in educating the community to provide the best care and compassion possible."

At home, Dr. Andrews has her own crew of furry friends including her Pitbull Max, a Westie named Brady, and a Terrier mix named Logan. When she is not helping animals or spending time with her own pets, she enjoys working out and hitting the beach.

Dr. Andrews encourages others to volunteer at the VBSPCA or support the animals by attending a VBSPCA event. Community involvement from people like Dr. Andrews are crucial to working towards the VBSPCA mission of ending animal suffering. We are thankful for everything she does to help our animals!

If you are interested in serving on the Virginia Beach SPCA Board of Directors, please email Emily.Peck@vbspca.com for more information.