Compassion in the Community – November 2020
As we ease into the holidays, the Virginia Beach SPCA has some new ways to support the animals! From the release of our 2021 annual calendars to our brand new VBSPCA gift cards, our retail store offers unique gifts that give back. Plus, our Humane Education Reading Challenge continues, and we've added virtual visits to our educational experiences. This month also brings awareness to some of our senior animal residents, and you can learn more about Adopt a Senior Pet Month below. Thank you for supporting the animals of the VBSPCA!  
Holiday Pet Photos Benefitting VBSPCA
Capture the perfect holiday photo with your furry family members while supporting the VBSPCA! Windhound Photography will be taking holiday pet pictures on Saturday, November 21 from 12:00 – 4:00pm at Bark VB Doggie Daycare. Sessions are $99 with half of each session's proceeds benefitting the VBSPCA. To reserve your spot, click here.
Adopt a Senior Pet Month
November is Adopt a Senior Pet month, and we will be highlighting some very special residents each week. You can also check out our social media pages for some fun senior pet posts. Plus – adoption fees for our senior animals will be discounted 50% all month long! To learn more about why senior pets make great pets, click here.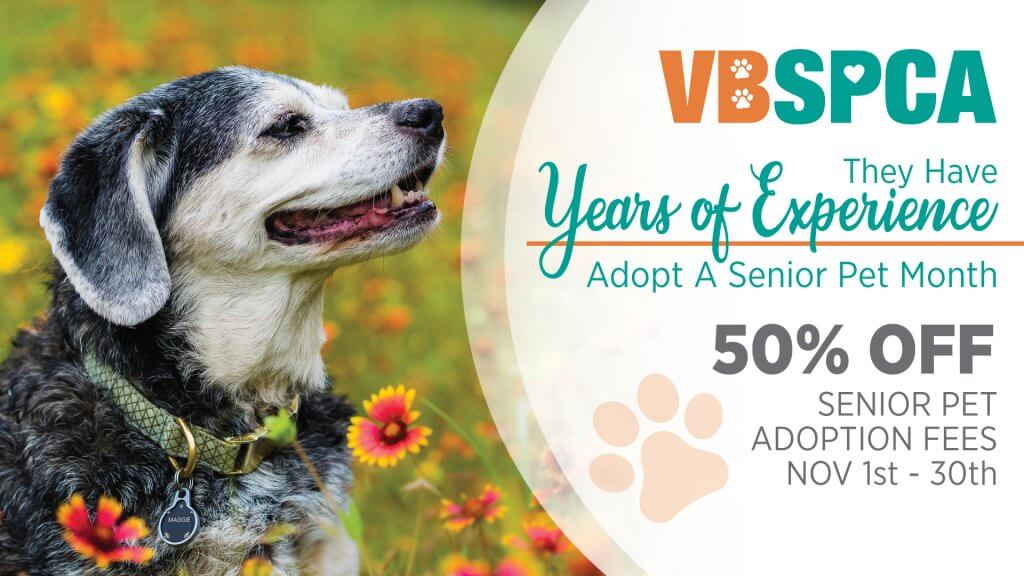 VBSPCA 2021 Annual Calendars
Our 2021 Annual Calendars go on sale this month, and this year they've got a twist! Our Mostly Bad Pet Portraits fundraiser from this past April has led to our Mostly Good Pet Portrait Calendar! Every single portrait completed for the fundraiser is included in the pages, with the top 12
portraits featured as their own month. The calendars will be available for purchase starting November 15th. To learn more about our calendars and other retail products, click here.
VBSPCA Gift Cards
This season, we are very excited to offer VBSPCA gift cards! These cards can be used for retail products or adoption fees, and they will make great stocking stuffers for animal lovers.  Learn more here.
Fall Reading Challenge
We're calling all children to participate in a fun reading challenge to foster the joy of books while also learning more about animals and the mission of the Virginia Beach SPCA. We've put together an interactive worksheet with three different reading challenges plus some educational bookmarks to instill character values in our young animal lovers (who will be tomorrow's animal heroes! ) Plus, for each challenge completed, readers win prizes! Click here for more information and to print out the challenge worksheet. 
Virtual Educational Visits
The VBSPCA is now offering virtual visits to local youth groups and classrooms. These visits offer local children the opportunity to learn about the Virginia Beach SPCA and meet some of our adoptable animals currently awaiting forever homes. These visits can include a virtual tour, a book reading, an animal meet and greet, or even a Q&A with a member of our medical team! Learn more here. 
365 Days of Compassion
We've extended our 365 Days of Compassion Fundraiser through the holidays! These sponsorships make great gifts, so click here to sponsor a day. 
All Year Long – Sustainable Support
Kroger Plus
You can help homeless animals anytime you buy groceries at Kroger! Simply sign up, swipe your Plus Card when you shop, and a portion of the sale will be donated back to the VBSPCA! Sign up to participate here.
Host a fundraiser through Bonfire
Create a t-shirt to benefit the animals of the VBSPCA! Bonfire makes it easy – upload your design, select the VBSPCA as the nonprofit, and they take it from there. This is a great way to support the animals while also putting some style out there in the community. Learn more here.
Nextdoor
Paypal Giving Fund has partnered with Nextdoor in order to bring charities a new way to gain support from their communities. With Nextdoor's Sell for Good, neighbors can support charities by simply buying and selling items on the For Sale & Free marketplace. Sellers will now have the option to donate proceeds to benefit nonprofits like the VBSPCA through the PayPal Giving Fund. Click here to get started today!
Become a Member
As a VBSPCA Member, every adoption we complete, every wildlife animal we rescue, every child we reach, and every pet we treat in our clinic connects back to you. YOU make our mission possible, and all it takes is $10 a month. Plus, VBSPCA members receive exclusive perks and discounts in gratitude for their dedication to sustaining our mission! Interested? Click here to become a VBSPCA Member.
#VBStrong
In solidarity with our two legged and four-legged community, VBStrong T-shirts and tanks are available at the VBSPCA shelter, located at 3040 Holland Road. 100% of the proceeds from these VBStrong shirts will go to families of those who were lost on May 31st, 2019.
The Virginia Beach SPCA is incredibly grateful for the continued support from our local community. If you are interested in hosting a fundraiser or event supporting the VBSPCA, please contact our Outreach Department at outreach@vbspca.com.