Compassion in the Community | September 2021
From cool treats to outdoor events you won't want to miss, our community has come up with a lot of creative ways to support the homeless animals of the Virginia Beach SPCA! Read on to find out how you can have some fun and help our furry friends during the month of September.

Dairy Queen Pup Cups for Animal Shelters – All Month Long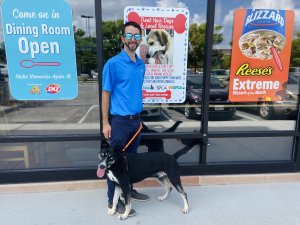 This month you can treat your pup and help homeless animals at the same time! During the month of September, Mid Atlantic Dairy Queen owned locations will be donating all proceeds from Pup Cup sales to local animal shelters including the Virginia Beach SPCA. The funds will be split evenly between four local shelters. Click here to learn more and see the list of the 14 participating Dairy Queen locations.
Bookmarked for Good at The Violet Fox Bookshop – All Month Long
Shop, read, and support the animals! This September, the Violet Fox Bookshop is donating 10% of its book sales to the VBSPCA. Click here to order your next read and give back to our shelter.

Pilates-4-Paws – September 3rd-10th
Do something good for yourself… and the animals of the VBSPCA! Pilates-4-Virginia Beach is hosting a weeklong event to benefit our animals. From September 3rd-10th, the studio will be collecting monetary donations as well as items from our Wish List. Then on Friday, September 10th, the studio will donate the proceeds from all of their classes that day to the VBSPCA Shelter. Click here to learn more or register for one of their special Pilates-4-Paws classes.

Mid Atlantic Home and Outdoor Living Show – September 11th & 12th
The VBSPCA will have a booth at the Mid Atlantic Home and Outdoor Living Show. While you're checking out the latest trends and styles, stop by to buy some VBSPCA swag and learn more about animal adoption. It all takes place at the Virginia Beach Convention Center on September 11th and 12th. Learn more here.

Party for the Animals – September 19th

Come celebrate the thousands of adoptions made possible over the past year at Party for the Animals. This family friendly event features food, drinks, and entertainment for animal lovers of all ages. Get your tickets now and join us September 19th at the Shack on 8th from 3pm-7pm. All proceeds benefit the animals of the VBSPCA. Click here for tickets.

Neptune Festival – September 24th-26th
Join us for a weekend of fun at the Neptune Festival! Stop by our booth on the Boardwalk to learn more about adoption and VBSPCA services and programs. Learn more about the Neptune Festival here.
All Year Long – Sustainable Support
Andy's Paw Prints
Order a custom pet portrait from Andy's Paw Prints, and 25% of the proceeds will be donated to the VBSPCA! This is a great way to support our animals while celebrating the special pets in your life. Andy's Paw Prints supports various animal shelters, so click here for our referral link to order your custom pet portrait.
Kroger Plus
You can help homeless animals anytime you buy groceries at Kroger! Simply sign up, swipe your Plus Card when you shop, and a portion of the sale will be donated back to the VBSPCA! Sign up to participate here.
Host a fundraiser through Bonfire
Create a t-shirt to benefit the animals of the VBSPCA! Bonfire makes it easy – upload your design, select the VBSPCA as the nonprofit, and they take it from there. This is a great way to support the animals while also putting some style out there in the community. Learn more here.
Nextdoor
Paypal Giving Fund has partnered with Nextdoor in order to bring charities a new way to gain support from their communities. With Nextdoor's Sell for Good, neighbors can support charities by simply buying and selling items on the For Sale & Free marketplace. Sellers will now have the option to donate proceeds to benefit nonprofits like the VBSPCA through the PayPal Giving Fund. Click here to get started today!
Become a Member
As a VBSPCA Member, every adoption we complete, every wildlife animal we rescue, every child we reach, and every pet we treat in our clinic connects back to you. YOU make our mission possible, and all it takes is $10 a month. Plus, VBSPCA members receive exclusive perks and discounts in gratitude for their dedication to sustaining our mission! Interested? Click here to become a VBSPCA Member.
#VBStrong
In solidarity with our two legged and four-legged community, VBStrong T-shirts and tanks are available at the VBSPCA shelter, located at 3040 Holland Road. 100% of the proceeds from these VBStrong shirts will go to families of those who were lost on May 31st, 2019.
The Virginia Beach SPCA is incredibly grateful for the continued support from our local community. If you are interested in hosting a fundraiser or event supporting the VBSPCA, please contact our Outreach Department at outreach@vbspca.com.