Compassion in the Community – February 2023
Valentine's Day is just around the corner, and there are plenty of ways to show some love to the animals of the Virginia Beach SPCA. Here are some ways our community is giving back this February.

Wags and Wine at Virginia Beach Winery – February 11th
Gabrielle Kadylak Real Estate is hosting Wags and Wine to benefit the animals of the VBSPCA. The fun takes place at Virginia Beach Winery Saturday, February 11th. This event features free wine, food, and photos as well as raffles. All attendees are asked to at least one item from our Wish List or a monetary donation.

VBSPCA Puppy Bowl Tail-Gate Party at Smartmouth Pilot House – February 12th

Join us as we cheer on the two VBSPCA puppies who were selected to play in the 2023 Puppy Bowl! We're hosting a watch party Sunday, February 12th from 1:00pm-4:00pm at Smartmouth Pilot House – and our adorable puppy athletes, Espresso and Briscoe, will be there to greet their fans! The event is free to attend, and Smartmouth will donate 10% of all sales during the event to the animals of the VBSPCA. Plus, you'll get snacks and giveaways from our sponsors: Checkered Flag, Heavenly Kettle Corn, and Nothing Bundt Cakes. Click here to learn more.

Jazz Night at Cobalt Grille – February 16th

On Thursday, February 16th, Cobalt Grille will host their monthly jazz night featuring The Cobalt Blue Band. The band plays from 6:00pm- 8:30pm, and Cobalt Grille will be generously donating 20% of the night's sales to the VBSPCA. For added fun, ballroom dancers from Marie Rants dance studio be onsite to get people on their feet and dancing! Make sure to reserve your table in advance since tables sell out quickly. For more information, contact Cobalt Grille at (757) 333-3334. 


Love is in the Air – All Month Long
Throughout the month of February, we want to spread love to the homeless animals of the VBSPCA as they wait to find loving homes. For every donation of $5 or more, we will post a heart with your name on it in our shelter to showcase how much our community cares. Stop by our shelter or donate via our social media posts to make your $5 donation.

Signature Management Corporation Donation Drive – All Month Long
Throughout the month of February, Signature Management Corporation will be collecting donations at all 10 of its properties. To participate, pick up an item from our Wish List and drop it off in the donation bins located in each property's office.

VBSPCA Membership Drive – Now through April 30th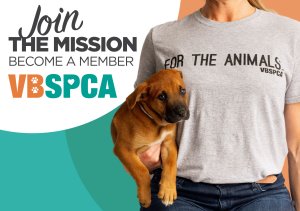 Join the VBSPCA mission and become a member! Our goal is to welcome 100 new VBSPCA members by April 30th. For as little as $10 a month, you'll provide critical funding to our Miracle Medical Fund, which ensures every animal at our shelter receives the veterinary care they need. As a thank you, membership comes with a variety of perks like a member T-shirt, magnet, discounts on adoptions and merchandise, and pet parent resources. Click here to become a member today.
All Year Long – Sustainable Support
Stephs Crafting Bits
Visit the Stephs Crafting Bits shop on Etsy for handmade jewelry and art that gives back! Mention the VBSPCA at checkout and 20% of your order will be donated to our animals. Click here to shop.
Black Dog Real Estate LLC
Looking for a new home? Try Black Dog Real Estate. A total of 5% of each sales commission will be donated to the VBSPCA. Click here to learn more.
Andy's Paw Prints
Order a custom pet portrait from Andy's Paw Prints, and 25% of the proceeds will be donated to the VBSPCA! This is a great way to support our animals while celebrating the special pets in your life. Andy's Paw Prints supports various animal shelters, so click here for our referral link to order your custom pet portrait.

Kroger Plus
You can help homeless animals anytime you buy groceries at Kroger! Simply sign up, swipe your Plus Card when you shop, and a portion of the sale will be donated back to the VBSPCA! Sign up to participate here.
Host a Fundraiser through Bonfire
Create a t-shirt to benefit the animals of the VBSPCA! Bonfire makes it easy – upload your design, select the VBSPCA as the nonprofit, and they take it from there. This is a great way to support the animals while also putting some style out there in the community. Learn more here.
Nextdoor
Paypal Giving Fund has partnered with Nextdoor in order to bring charities a new way to gain support from their communities. With Nextdoor's Sell for Good, neighbors can support charities by simply buying and selling items on the For Sale & Free marketplace. Sellers will now have the option to donate proceeds to benefit nonprofits like the VBSPCA through the PayPal Giving Fund. Click here to get started today!
Become a Member
As a VBSPCA Member, every adoption we complete, every wildlife animal we rescue, every child we reach, and every pet we treat in our clinic connects back to you. YOU make our mission possible, and all it takes is $10 a month. Plus, VBSPCA members receive exclusive perks and discounts in gratitude for their dedication to sustaining our mission! Interested? Click here to become a VBSPCA Member.
The Virginia Beach SPCA is incredibly grateful for the continued support from our local community. If you are interested in hosting a fundraiser or event supporting the VBSPCA, please contact our Outreach Department at outreach@vbspca.com.