Compassion in the Community | December 2021
The season of giving is here, and there are so many ways you can support the animals of the Virginia Beach SPCA. From gifts that give back to donation drives, our community is coming together this December so that homeless animals aren't forgotten this holiday season.

VBSPCA Gifts that Give Back – All Month Long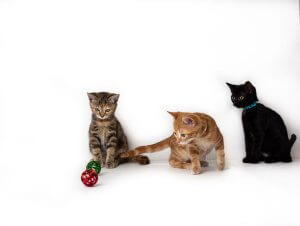 Create a holiday shopping list that gives twice! The VBSPCA has a variety of gifts for the animal lovers in your life, and all proceeds go directly back to the furry friends here at the shelter! From gift cards to pet toys, apparel to gift memberships, we have something for everyone. Learn more here or stop by the shelter!
Chase's Christmas for the Critters – Through December 15th
Participate in the 7th annual Chase's Christmas for the Critters! A local 13 year old Boy Scout will once again be collecting items from our Wish List so that the VBSPCA homeless animals feel the love this holiday season. For information on drop-off locations, visit Chase's event page on Facebook.

Donation Drive at Refine – December 1st
Our friends at Refine will be doing a donation drive for the VBSPCA on Wednesday, December 1st. Stop by and drop off a cash donation or something from our Wish List. Learn more about Refine and their services here.

Holiday Pet Photos with Windhound Photography – December 4th
Thanks to local photographer Barb Hays of Windhound Photography, a portion of Santa Pet Portrait Day at Bark VB will be donated to the VBSPCA! These special holiday sessions are sold out, but you can book a photo session to capture your pet's personality here.

Meet Adoptable Animals at St. Andrews United Methodist Church – December 4th
Find your perfect Christmas tree and meet animals who are looking for a home this holiday season! Some of the VBSPCA adoptable dogs will be visiting the Christmas tree lot at St. Andrews United Methodist Church on December 4th from 12pm-3pm.

In the Pines Art Walk and Vendor Show – December 4th
The VBSPCA will have a booth at the In the Pines Art Walk and Vendor Show. The fun takes place at London Bridge Greenhouse and Nursery on Saturday, December 4th from 10am-2pm. Stop by our booth – all proceeds from your purchase will benefit our animals!

Paws with Claus at Union Alehouse – December 4th
Grab a pint, get your pet's portrait with Santa, and support the VBSPCA! Union Alehouse is hosting Paws with Claus on Saturday, December 4th from 12pm-3pm. Half of the proceeds from all pet portraits will be donated to the VBSPCA. We'll also have some adoptable animals there for you to meet.

Pictures with Santa at CP Shuckers – December 11th & 12th
Bring your fur kids and your human kids for Pictures with Santa at CP Shuckers! Photos will be free with any donation to the VBSPCA, either cash or an item from our Wish List. The event will take place at CP Shucker's Shore Drive location on December 11th from 12pm-3pm and at the Pacific Avenue location on December 12th from 12pm-3pm.
All Year Long – Sustainable Support
Andy's Paw Prints
Order a custom pet portrait from Andy's Paw Prints, and 25% of the proceeds will be donated to the VBSPCA! This is a great way to support our animals while celebrating the special pets in your life. Andy's Paw Prints supports various animal shelters, so click here for our referral link to order your custom pet portrait.

Kroger Plus
You can help homeless animals anytime you buy groceries at Kroger! Simply sign up, swipe your Plus Card when you shop, and a portion of the sale will be donated back to the VBSPCA! Sign up to participate here.

Host a Fundraiser through Bonfire
Create a t-shirt to benefit the animals of the VBSPCA! Bonfire makes it easy – upload your design, select the VBSPCA as the nonprofit, and they take it from there. This is a great way to support the animals while also putting some style out there in the community. Learn more here.

Nextdoor
Paypal Giving Fund has partnered with Nextdoor in order to bring charities a new way to gain support from their communities. With Nextdoor's Sell for Good, neighbors can support charities by simply buying and selling items on the For Sale & Free marketplace. Sellers will now have the option to donate proceeds to benefit nonprofits like the VBSPCA through the PayPal Giving Fund. Click here to get started today!

Become a Member
As a VBSPCA Member, every adoption we complete, every wildlife animal we rescue, every child we reach, and every pet we treat in our clinic connects back to you. YOU make our mission possible, and all it takes is $10 a month. Plus, VBSPCA members receive exclusive perks and discounts in gratitude for their dedication to sustaining our mission! Interested? Click here to become a VBSPCA Member.

#VBStrong
In solidarity with our two legged and four-legged community, VBStrong T-shirts and tanks are available at the VBSPCA shelter, located at 3040 Holland Road. 100% of the proceeds from these VBStrong shirts will go to families of those who were lost on May 31st, 2019.
The Virginia Beach SPCA is incredibly grateful for the continued support from our local community. If you are interested in hosting a fundraiser or event supporting the VBSPCA, please contact our Outreach Department at outreach@vbspca.com.