Compassion in the Community | April 2023
Spring is here, and April is a great time to get out and enjoy some local events. There are even a few that benefit the animals of the Virginia Beach SPCA to put on your calendar. Here's a look at how we're connecting with the community this month.

Pets on the Patio at Starbucks – April 15th
Get your caffeine fix and maybe even meet your new best friend! Some of our adoptable dogs will be at the Starbucks in Landstown Commons on Saturday, April 15th from 1:00pm-3:00pm for an adoption awareness event.

Wags & Whiskers Gala: Havana Nights – April 29th

Tickets are selling quickly for the VBSPCA Wags & Whiskers Gala! Join us Saturday, April 29th from 7:00pm-11:00pm at New Realm Brewing Co. for our biggest fundraising event of the year. This year's theme is Havana Nights and will feature Cuban-inspired food, drinks, entertainment, auctions, and more. This event sold out last year, so click here to get your tickets now before they're gone.

VBSPCA Membership Drive – Now through April 30th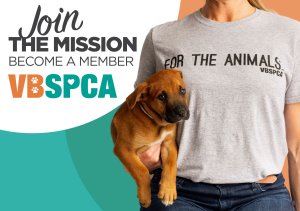 Join the VBSPCA mission and become a member! Our goal is to welcome 100 new VBSPCA members by April 30th. For as little as $10 a month, you'll provide critical funding to our Miracle Medical Fund, which ensures every animal at our shelter receives the veterinary care they need. As a thank you, membership comes with a variety of perks like a member T-shirt, magnet, discounts on adoptions and merchandise, and pet parent resources. Click here to become a member today.
All Year Long – Sustainable Support
Stephs Crafting Bits
Visit the Stephs Crafting Bits shop on Etsy for handmade jewelry and art that gives back! Mention the VBSPCA at checkout and 20% of your order will be donated to our animals. Click here to shop.

Black Dog Real Estate LLC
Looking for a new home? Try Black Dog Real Estate. A total of 5% of each sales commission will be donated to the VBSPCA. Click here to learn more.

Andy's Paw Prints
Order a custom pet portrait from Andy's Paw Prints, and 25% of the proceeds will be donated to the VBSPCA! This is a great way to support our animals while celebrating the special pets in your life. Andy's Paw Prints supports various animal shelters, so click here for our referral link to order your custom pet portrait.
Kroger Plus
You can help homeless animals anytime you buy groceries at Kroger! Simply sign up, swipe your Plus Card when you shop, and a portion of the sale will be donated back to the VBSPCA! Sign up to participate here.
Host a Fundraiser through Bonfire
Create a t-shirt to benefit the animals of the VBSPCA! Bonfire makes it easy – upload your design, select the VBSPCA as the nonprofit, and they take it from there. This is a great way to support the animals while also putting some style out there in the community. Learn more here.
Nextdoor
Paypal Giving Fund has partnered with Nextdoor in order to bring charities a new way to gain support from their communities. With Nextdoor's Sell for Good, neighbors can support charities by simply buying and selling items on the For Sale & Free marketplace. Sellers will now have the option to donate proceeds to benefit nonprofits like the VBSPCA through the PayPal Giving Fund. Click here to get started today!
Become a Member
As a VBSPCA Member, every adoption we complete, every wildlife animal we rescue, every child we reach, and every pet we treat in our clinic connects back to you. YOU make our mission possible, and all it takes is $10 a month. Plus, VBSPCA members receive exclusive perks and discounts in gratitude for their dedication to sustaining our mission! Interested? Click here to become a VBSPCA Member.
The Virginia Beach SPCA is incredibly grateful for the continued support from our local community. If you are interested in hosting a fundraiser or event supporting the VBSPCA, please contact our Outreach Department at outreach@vbspca.com.