Another Way of Seeing Things — Three Blind Kittens Join The VBSPCA Family
Imagine living in a world where you are in complete darkness and you have discovered your surroundings through smell, touch and taste. This is what life is like for the three blind kittens the VBSPCA recently took in. 
The VBSPCA works with local animal control to help special cases. The kittens were transferred in due to an infection in their eyes and will now be able to get the medical help they need at the shelter. All three kittens will need a double eye enucleation that will be fully paid for by the VBSPCA Miracle Medical Fund – a fund dedicated to solely to providing critical medical care to VBSPCA shelter pets. 
Although they will live their entire lives without their sight, blind pets are incredibly adaptable and can live a happy life in a loving home. One of our staff members, Sarah, owns a blind cat named Vision and shared her experience living with a blind animal.
"They still lead a completely normal life," Sarah said. "It might take them a little bit of encouragement to understand that if you jump off the bed you're not gonna fall into a huge canyon or things like that. There are times when you have to build their confidence, but that makes their bond with you that much stronger."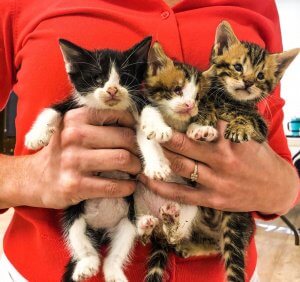 After Vision transitioned into a home setting, Sarah described what it was like to see her discover her new home. 
"Eventually we let her outside of our master bedroom and let her begin to interact with all of our other cats and experiencing the house and it was really great to see her learn the layout and see her first steps down the stairs," said Sarah. "Now she runs up and down them. The great thing is that even though she can't see, her other senses are so hyped up."
Living with a blind cat is like living with any other animal, yet it is important to understand that they memorize the world around them and may not adjust to change easily. Special needs pets make great pets, but they do need families who will be committed to care and safe home adjustment. According to Catster, blind cats enjoy noisy toys and owners who love to talk to them.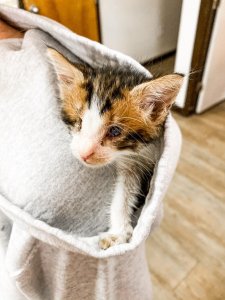 The three kittens still have to grow before they are able to have surgery and be adopted, but the VBSPCA is excited to eventually be able to give these sweet animals a chance to find a great home. However, this surgery is costly for our clinic and the kittens will also need a committed foster to take care of them throughout their recovery. 
Our Miracle Medical Fund was started to help cases like this and saves thousands of animal lives every year. Any gift to the fund goes directly to the medical care of the animals here at the VBSPCA. If you would like to give animals like these kittens the life-saving procedures they need to live a happy and healthy life, please consider donating to the Miracle Medical Fund today!